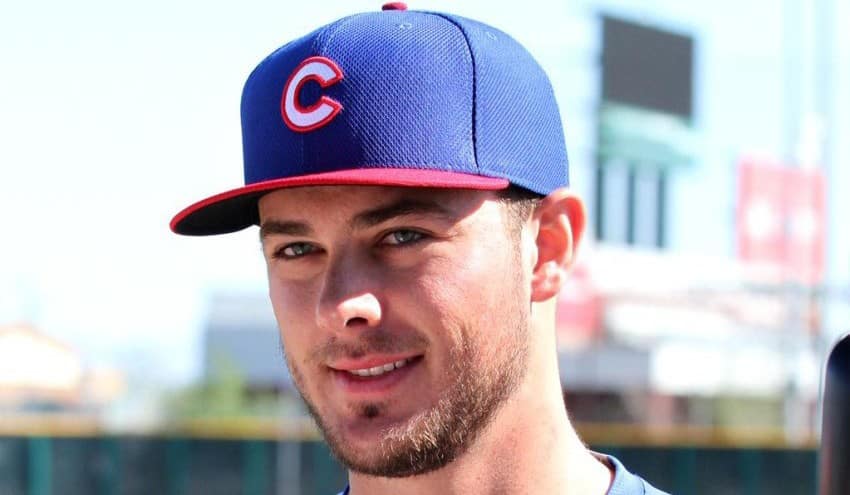 The Count of Monte Kristo: Bearded Bryant Ready to Reign
And a child shall lead them.
Okay, so it's probably not accurate to call a 23-year-old a child. He's still young though, this hirsute hitter; this shaggy slugger; this pilose portent and hairy harbinger of happy times. He's, dare I say, a bearded unicorn.
And one more Kris Bryant from today from our photog in Arizona, John Antonoff. #Cubspic.twitter.com/LLIPJBcIVV

— Chris De Luca (@ChrisDeLuca) February 18, 2015
Yes, folks, Kris Bryant's facial fleece is officially on fleek. I don't really even know what that means, but Urban Dictionary seems to indicate that it's a good thing so I'm going to run with it. Besides, I don't think many of my readers are in a young enough demographic to correct me anyway.
What I do know is that if Bryant's play on the field is even half as exciting as Twitter seems to think his whiskers are, fans are in for a great season. Maybe he's just trying to win some sweet Barbasol gear, but methinks a bit of metaphor lies in that manly mane.
Matriculating to Mesa with this physiognomic pelt camouflaging his countenance signifies that Bryant means business. Or that he forgot to pack his razor. Either way, he arrived at camp filled with confidence and ready to show the Cubs that he's going to all he can to force their hand.
"I think I have a pretty good grasp of [service time], but I don't look into it at all," Bryant shared with Carrie Muskat. "I don't make those decisions. I make the decisions on the field for me and how hard I play, and that's all I can control."
"I didn't really know what to do last year — I was kind of the new guy, going through the motions," the golden boy continued. "I didn't know where to go or what to say. This year, I got here early and am trying to get settled in. I feel like when you're prepared and establish a routine early, you set yourself up for a lot of success. That's why I'm here early."
Bryant was in camp with the big leaguers last year too, going only 2-18 in 11 games. Both hits, however, left the yard and sent much of Cubdom into virtual hysterics. I think it's safe to say that the nascent superstar has his sights set on a significantly more productive spring in 2015 though.
Even if he sets the Cactus League on fire in March, Bryant will still likely have to watch from Des Moines as the last few ticks of the arbitration clock spin out their inexorable journey. But if all goes to plan, the wait between Sloan Park and Wrigley Field might be a relatively short one.
In fact, it could be as few as 12 days, which would make Bryant's debut the series opener against the Padres on April 17th. I tend to believe the Cubs will be a bit more coy than that, perhaps waiting another week or so at the least to bring him up (for what it's worth, I'd love to see him imitate Starlin Castro's Cincy start).
Regardless of the exact date, the fact of the matter is that Cubs fans won't have to wait long for the opportunity to see exactly what the hype is all about. The Count of Monte Kristo will soon be paying the city of Chicago a diplomatic visit, and I don't think he'll have much trouble securing a permanent work visa.