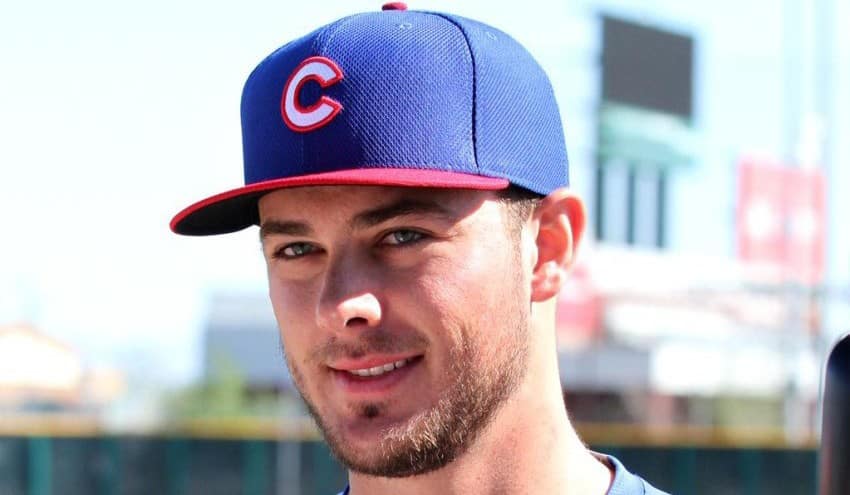 Just When You Thought Kris Bryant Couldn't Get Any More Awesome
Kris Bryant is everything a baseball fan could want in a soon-to-be star player. The ridiculous stats tend to draw most of the attention, but it's no secret that the guy's pretty easy on the eyes as well. And then there's the makeup, influenced by a pro baseball pedigree.
There's been quite a kerfuffle surrounding the issue of Bryant's service time, or lack thereof, but the Next Big Thing has handled the situation with aplomb. It's a nice counter to his agent, Scott Boras, who has all the subtlety of a bull in a china shop. Or perhaps it's a bulldog.
In a post from Wednesday, ESPN Chicago's Jesse Rogers illustrated just how well-measured Bryant has been:
"Scott works for me," Bryant said Wednesday morning. "He does a great job. It's nice to have a bulldog working for you rather than a poodle. He definitely sticks up for his players and wants the best for them."

"Ownership has been great to me," Bryant said. "Treating me nothing but with first class. I have nothing but good things to say about them but at the same time I'm hearing from teammates that they want me up and I'm doing well and everyone is telling me I'm progressing well. It's kind of sending me mixed messages to me. But it definitely is refreshing to hear from teammates that they want me up there and other coaches around the league that I happen to know personally from the fall league and stuff who tell me how well I'm doing. I don't let it get to my head but it's nice to hear from your teammates and peers around here."

"I was thinking about this this past week," Bryant said. "When I started in Boise [Class A] I was rough but at each level I progressed really well. I think my stats have gone up fielding. I feel really good out there. I've done everything they've asked me to, getting better every day. I've gotten nothing but positive feedback."

"He's the best that's ever been in this game," Bryant stated. "He's kind of polarizing. Some guys don't like him but as a player you have to love him. He's there fighting for you every day. He wants the best for you. It's not just for him. He's a great family man. I can call him at any time of the night and ask a question. He's there to answer it. That's the type of guy you want on your side."
Not bad, huh? The guy's a pro, there's no doubt about that. But it's one thing to have the right words handy for the media and quite another to impress when no one's watching. Well, almost no one.
A million thanks to Kris Bryant @KrisBryant_23 for making my son so incredibly happy. Thank you so much, Kris! #Cubs pic.twitter.com/DPvqloaUJH — Jason Witt (@jasonwitt) March 20, 2015
I know some of you might be thinking, "What's the big deal? He stopped and signed for a kid at spring training." But to me, that is the big deal. It would've been easy enough for Bryant to hustle on by as though he hadn't seen the little boy and his dad standing there. He could have kept his head down and bee-lined for the clubhouse without a word.
As a father, this is the kind of thing that impresses me more than giving the right soundbite to a reporter or having a great at-bat in a pressure situation. I've had the good fortune to see my kids interact with some relatively high-profile athletes in the past and those interactions have greatly influenced my views. Of the athletes, not my kids.
And I'll never forget my own experience with Reggie Miller at his basketball camp many years ago. He was already my favorite basketball player, but the way he treated me when I got hurt cemented my adoration. Even the detractors of his broadcasting career can't sway me.
Likewise, I'm pretty sure Jason Witt is going to have this memory etched in his gray matter in perpetuity. Even though his son may not understand the gravity of the brief meeting now, he certainly will as he watches Bryant play in Chicago. And thanks to the Cubs' maneuvering, we all may have an extra year of that sight.
I suppose I could make some remark about the state of professional sports and athletes in general and the fact that so many fans are over the moon about such an innocuous gesture. But despite my general cynicism and mild misanthropy, I'm choosing to view this with childlike enthusiasm.
Maybe it's just a case of March Madness, but I really was impressed by the fact that Bryant stopped to sign for that little boy. Mid-April can't get here soon enough.