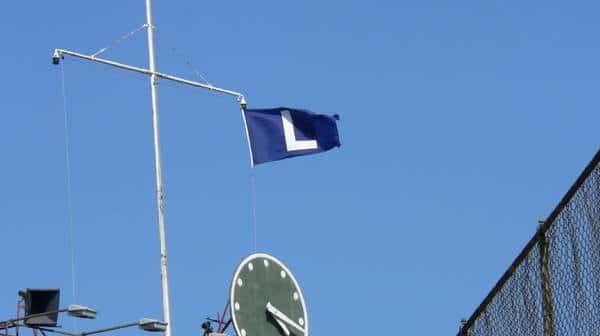 A Tip of the Recap – April 10th
The Cubs lost today in game 1 of their 3-game series with the Rockies by a score of 5-1.
The Good
Anthony Rizzo is an on-base machine and reached all 4 times today to give him a streak of 6 straight appearances in which he reached base. Today he had two HBP, a sharp single to right and a bunt single down the 3rd base line against the shift.
Jorge Soler went 1 for 3 with a bloop single and a walk and he contributed on defense too, throwing out Nolan Arenado trying to stretch a single into a double.
Matt Szczur accounted for the Cubs' only run with a bases-loaded sac fly to left that scored Rizzo and allowed the other runners to advance. He also walked and had his first career stolen base.
Edwin Jackson looked pretty solid out of the pen today, going 2 strong innings and only allowing 1 hit with no walks while striking out 2. His 2nd inning was extended by what should have been a routine ball to short that Castro just didn't field, but he escaped unscathed.
The Bad
Thankfully, Brian Schlitter only pitched one inning today, giving up 2 runs (both earned) on 3 hits (1 HR) and a walk. Schlitter has decent control, but without any plus pitches he is not going to be a big part of the pen or future in Chicago. I would have rather seen Rosscup get the call instead.
Starlin Castro is starting off the year very slow with men on base. He went 1 for 4, but struck out with men in scoring position then grounded into a double play after Soler and Rizzo both reached in the top of the 5th.
Castro also had that error in the 8th inning that I would venture to say 99% of all infielders would have fielded cleanly for a routine out. To his credit, he gets mad at himself every time it happens, but it would be much better if something changed to stop it from happening, like getting in front of the ball.
Travis Wood wasn't bad early, but the wheels came off in the 5th inning and he was replaced with 2 outs in the by Jason Motte. For the day he went 4.2 innings with 3 runs (all earned) on 7 hits and 2 walks.
Wood did strike out 5, but his unraveling in 5th was a single to DJ LeMahieu, followed by a walk to Corey Dickerson, then a two run double to Tulo.
The Ugly
The Cubs continue to look lost with men on and/or in scoring position. Today they left a total of 19 men on-base with Fowler, Castro, Olt, and Beef accounting for 14 of them.
As a team, the Cubs were 1 for 9 with runners in scoring position and I know these things usually even out over the course of the season, but you would like to see at least an adjustment in approach, where they shorten up and at least make contact.
On Deck
The Cubs will look to even up the series tomorrow when they are back in action at 7:10 PM (CST) on CSN+. Jason Hammel makes his first start of 2015 against Kyle Kendrick for the Rockies.