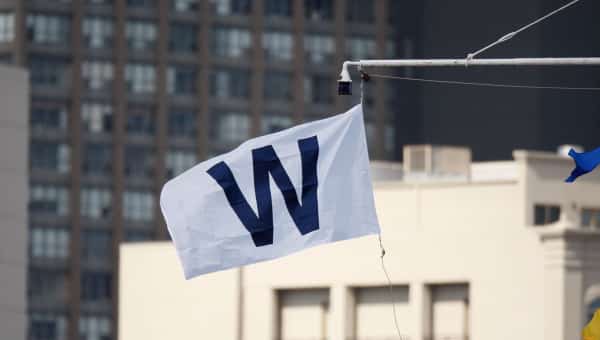 A Tip of the Recap – April 11th
The Cubs are back at .500 after a 9-5 win over the Colorado Rockies on Saturday night.
The Good
The offense as a whole was clicking, with half of their 12 hits going for extra bases tonight including three HRs (solo shots by Coghlan, Olt, and Castro). They also drew 5 walks and had two HBP (Rizzo and Olt).
Dexter Fowler followed up a horrible game yesterday with an outstanding performance tonight. He reached base 4 times with 2 triples and 2 walks, scoring 2 runs.
Jorge Soler had a nice day at the plate again with a 2 for 4, 2-RBI line.
Starlin Castro had himself a day as well, going 3 for 5 with his first HR of the season, adding a 2-out RBI single in the 6th inning.
Arismendy Alcantara did not record any hits, but he did draw 2 walks and looked comfortable at the plate (compared to last year, when he looked tentative). He scored both times he reached base and the whole pitcher-hittin-8th thing worked out pretty well today.
Jason Hammel pitched well enough to get the win. He went 6 innings and scattered 8 hits without a walk, striking out 6. He also had a 2 for 3 day with the bat to help his own cause.
The Bad
Phil Coke came in with the hopes of retiring the left-handed hitters, but instead gave up a 2-run single to Corey Dickerson in the 8th and was then eventually replaced by Pedro Strop, who got the Cubs out of the inning.
The Ugly
Nothing really too bad from this one; the pen was a little shakier than one would hope they would be, but seriously, they had the room to work with and kept the Rockies from putting up big innings to get themselves back in the game, so that was good enough.
On Deck
The Cubs will look to take the rubber match tomorrow when Kyle Hendricks makes his first start of 2015 against Jordan Lyles (1-0, 3.00 ERA) for the Rockies. The game starts at 3:10 PM (CST) and will be shown on WGN in the Chicagoland area. Outside of Chicagoland? Check this list of affiliates that Evan shared; you may still be able to get the game tomorrow.