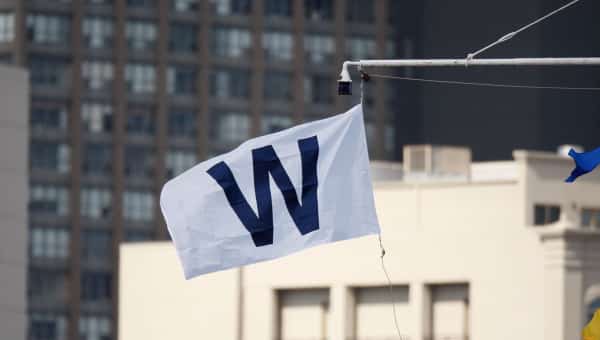 A Tip of the Recap – April 13th
The Cubs came from behind for the 2nd day in a row and beat the Reds by a score of 7-6 in 10 innings.
The Good
Jorge Soler was a man playing a child's game tonight. He hit two 2-run homers that were absolute bombs, with his 2nd one tying the game up at 6 in the bottom of the 8th. The HR's were the first of the season for him and he now has 6 RBI.
On top of all the offensive fireworks, he also added an amazing throw from foul territory (after an errant pickoff throw by Lester) to catch Zack Cozart trying to go from 1st to 3rd. Needless to say, the Reds did not test him again the rest of the night.
Soler is the only one that could have overshadowed Chris Coghlan's day at the plate. The Cubs left fielder went 3 for 4 with a single, double, solo HR and a walk. He is now hitting .375 and has to be considered one of the hottest hitters on the team right now. He even played a couple innings at 3rd base.
Anthony Rizzo responded to a 3-strikeout game yesterday by going 2 for 3 with 2 walks. He is now hitting a more respectable .235.
Arismendy Alcantara came up huge with his first hit of the year, a game winning single up the middle. He looked awful on the first and second pitches, but stayed with it and put it where they weren't for the win!
The Bad
Hopefully it doesn't become feast or famine with Dexter Fowler, but after having a couple great games in Colorado this weekend, he followed it up with an 0 for 5 performance tonight. He even had a chance to play hero again with the winning run on 2nd in the bottom of the 9th, but grounded out to first.
The Ugly
Jon Lester really had two different performances today. He sandwiched 4 great, efficient innings between a 3-run 1st and a 3 run 6th. The first inning was full of bloops, but the 6th had some pretty decent shots and he was lucky to escape having only given up the 6 runs.
In all, he went 6 innings, gave up 6 runs (all earned) on 10 hits, 0 walks with 4 Ks. His ERA after 2 starts now sits at 7.84, but lest we forget, he missed a great deal of spring training; I would bet his next start will be his best yet.
On Deck
The Cubs are back in action tomorrow night against the Reds. First pitch is at 7:05 PM (CST) on CSN with Jake Arrieta (1-0, 0.00) facing off against Anthony DeSclafani (0-0, 3.00).