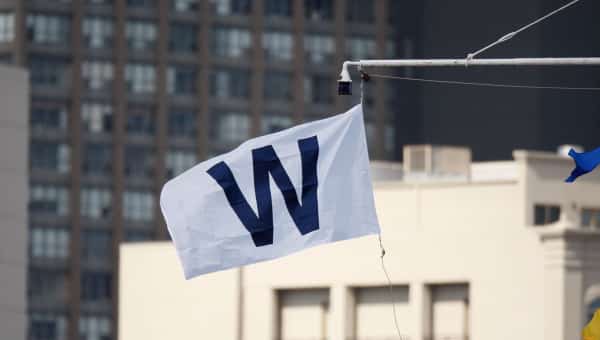 A Tip of the Recap – April 15th
The Cubs took the rubber match tonight against the Reds, shutting them out by a score of 5-0 on Jackie Robinson day. This is one of the coolest days of the early part of the season, as everyone dons the number 42 to pay homage to the great Jackie Robinson.
The Good
Every Cub starter had at least 1 hit tonight (yes, even Jonathan Herrera).
Anthony Rizzo got the scoring started with a very high 2-run HR (his 1st) to RF in the first inning.
Dexter Fowler was a catalyst again tonight, reaching base 3 times (single, double and walk) and scoring 2 runs.
Jorge Soler was 1 for 3, drove in a run with a bases-loaded HBP and also walked. He is now hitting .310 and leads the team with 7 RBI.
Starlin Castro played what may have been his best game of the season; he went 2 for 3 with a single, double and walk, with a run scored. He also made some great plays on D including a diving stop that started a double play.
Travis Wood was like the Travis Wood of old tonight. He went 7 very strong innings, giving up no runs on just 3 hits while surrendering 2 walks and striking out 7.
Phil Coke entered in the 8th inning and inherited 2 runners, stranding both of them.
The Bad and The Ugly
The Neil Ramirez injury was pretty much the low point of a game that the Cubs pretty much led wire-to-wire tonight. The signing of Jason Motte looms very large if Ramirez is out for an extended period of time; at the very least, Motte provides depth that this team did not have last season.
Ramirez threw just 3 pitches to start the 9th inning, then had to be removed with what is being characterized as shoulder discomfort. Hopefully it isn't anything serious; there wasn't any word of the severity as I write this, but it doesn't sound like people are too positive about it right now. He does have a history of shoulder issues.
On Deck 
The Cubs are off tomorrow, but play host to the Padres on Friday. First pitch is at 1:20 PM (CST) and the game will be televised on ABC 7 in the Chicagoland area. Jason Hammel (1-0, 4.50) will start for the Cubs against James Shields (1-0, 2.08) for the Padres.