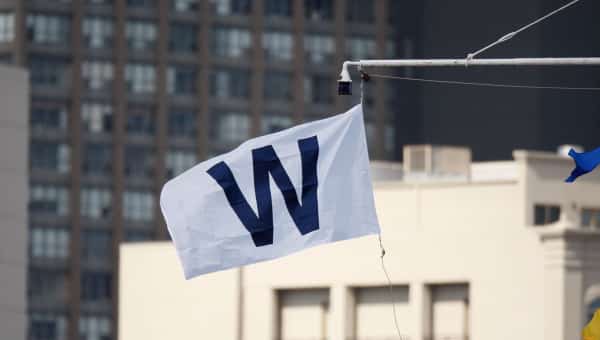 A Tip of the Recap – April 18th
The Cubs had the lead and gave it away near the end, but still walked away winners after a 7-6 win in 11 innings.
The Good
Starlin Castro was today's hero, hitting the walk-off single in the bottom of the 11th off of Craig Kimbrel. He had 3 singles in 6 trips to the plate and is hitting .317.
Miguel Montero put on a power show today with 2 HRs, driving in 3 and adding a walk. I'm going to go out on a limb and say that there won't be many starts against righties that Montero doesn't get.
Even though Kris Bryant already figured out the big leagues Friday (I kid), he had a much better 2nd day. He reached base 5 times (2 singles and 3 walks), drove in his first career RBI and, best of all, had no K's.
Anthony Rizzo had a normal day: a couple hits, a walk and an RBI, but he did add a new element today by stealing 2 bases.
Kyle Hendricks gave up 2 runs (both earned) on 3 hits (1 HR), 0 walks and 8 Ks in 6 innings. He only gave up 1 hit after the first inning and looked in control most of the time. I selfishly would have liked to see him come out for the 7th inning. It could have set up the pen a little better but the Cubs won so it is all good.
Zac Rosscup's appearance was huge as he pitched 2 scoreless innings giving up just 1 hit, no walks and 2 Ks. He got the win (his 2nd career win) and if he has a few more outings like this he may become the lefty in the pen (especially after Phil Coke's performance).
The Bad
Phil Coke didn't retire anyone at all and was replaced in the 9th after giving up 2 hits in a row. He was charged with 2 earned runs after Hector Rondon came in and was even worse than Coke.
The Ugly
Like I just said, Rondon was even worse than Coke today. He gave up 4 hits, 2 runs (of his own, plus 2 of Coke's) while striking out 1. He was still very close to getting out of it, but just couldn't get it done and threw so many pitches (31) that he is going to be unavailable tomorrow.
On Deck 
The Cubs will look to win another series tomorrow when Jon Lester (0-1, 7.84)  gets the start against Andrew Cashner (0-2, 4.09), in what should be a very good matchup. First pitch is set for 1:20 PM (CST) and will be televised on WGN.