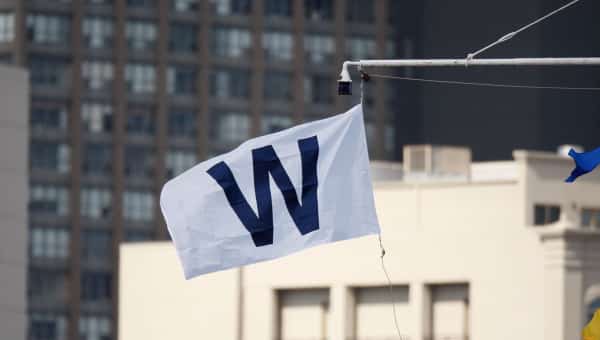 A Tip of the Recap – April 20th
The Cubs won tonight in what was probably their most satisfying win of the season, beating the Pirates by a score of 5-2.
The Good
Where to begin?
Jorge Soler went 4 for 5 with 3 singles and a bullet double down the LF line. He scored 2 runs and is now hitting .320 on the season.
Anthony Rizzo reached base 4 times (2 hits, 1 BB, 1 HBP) and scored a run.
Kris Bryant keeps having better and better games. Today he went 3 for 4 with 3 RBI, a walk and a run scored. One of his hits was a bizarre double that saw him score what people around baseball call a "Little League home run." Bryant's average is now at a robust .429 and he has 4 RBI.
Starlin Castro was a wizard on D and came up with a couple hits of his own. He is hitting .327 and has played some of the most inspired defense of his career.
Jake Arrieta is laying claim to the title of ace of the staff. He improved to 2-1 on the year and lowered his ERA to 1.74. He gave up some hard contact in the first inning, but then proceeded to retire 20 out of the next 22 hitters. Jake gave up just the one run on 4 hits (0 walks) and 7 Ks.
Pedro Strop was filthy tonight, striking out 2 in a perfect inning of relief.
The Bad
Hard to pick on too many bad things from this game. The Cubs did threaten pretty much every inning before finally breaking through in the 5th and then again in the 7th and 8th. The team left 15 men on base, but a win is a win and 5 runs is going to be tough to beat on any night.
The Ugly
Nothing to point out as ugly, except for the very scary situation that involved a fan with her back to the field behind home plate. She was too close to the netting (or the net had too much slack) and she was hit very hard on the head by a foul ball from Castro's bat.
The game was delayed 23 minutes while she was tended to; eventually she was carried out via a stretcher, but reportedly was conscious and alert, that was a good ending to a rather ugly situation.
On Deck
Game 2 against the Pirates will be at 6:05 PM (CST) and will be a matchup of two lefties. Travis Wood (1-1, 2.31) vs. Francisco Liriano (0-1, 2.08) will face off on WGN in the Chicagoland area.