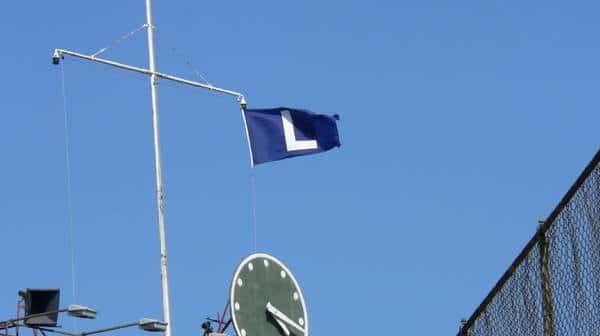 A Tip of the Recap April 23rd
The Cubs fell to the Pirates today and will have to settle for a split. The score was 5-4 and the story was an overworked pen that couldn't get the job done.
The Good
Starlin Castro had a 2 for 4 day including a run scored to bring his average up to .355 for the season. He did have a chance to really put some distance between the two teams when he came up with the bases loaded in the 5th, but instead hit into an inning-ending double play.
Addison Russell had his first career extra-base hit and his first RBI with a double in the 4th. He did strike out 2 more times today though.
Chris Denorfia batted leadoff today in Dexter Fowler's absence and had a 2-hit day of his own.
Kyle Hendricks deserved the win based on how he pitched today. He went 5.1 innings and gave up 3 runs (all earned, though Edwin Jackson allowed an inherited runner to score), on 5 hits, 0 walks and 3 Ks.
In my opinion the leash was a little too short for Hendricks, as I would rather have seen him push through the 6th instead of going to Jackson and eventually Schlitter. But who knows, maybe he was really gassed and needed to come out for the day.
Jason Motte was decent, giving up just a single and striking out 2.
The Bad
Jorge Soler did walk 2 times today, but in his other 2 ABs he struck out. I know it is super early, but he has really gone a week or so with a few too many Ks. I hope that isn't a trend that continues; I for one don't think it will, but either way, it is worth taking note of for sure.
Beef has built a reputation for being a catcher that can control the run game a little bit. Today though was not one of those days. He made two ill-advised and poorly-executed throws that turned into errors and allowed the runners to move up a base.
The Ugly
The pen taketh away again today; Jackson, Schlitter and Coke combined to give up 2 runs of their own on 3 hits and 2 walks.
Jackson was especially bad after he had a couple great outings earlier this month. He didn't retire a single batter and was behind pretty much everyone he faced. It was just discussed that he was going to get more time in higher leverage situations too.
On Deck
The Cubs will next head to Cincinnati for a 3 game series with the Reds. Jon Lester (0-2, 6.89) will go up against Mike Leake (0-1, 3.92) tomorrow night. First pitch is set for 6:10 PM (CST) and the game will be televised on CSN.