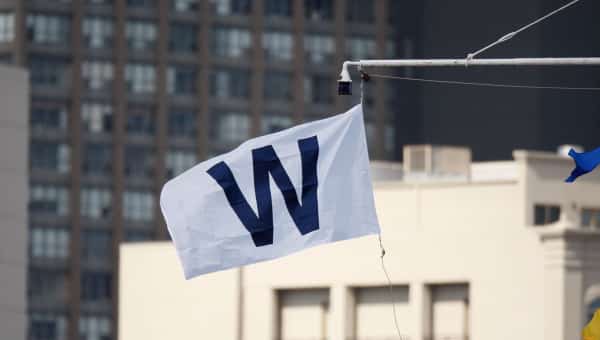 A Tip of the Recap – April 27th
The Cubs shut out the Pirates tonight and won by a score of 4-0 in just 2 hours and 2o minutes.
The Good
Jason Hammel was on cruise control all night and pitched 8 scoreless innings, only giving up 4 hits and walking 0 while striking out 7. It was easily the best performance by a starting pitcher this season for the Cubs.
All 4 runs were scored via 2-out hits by the Cubs, which is a complete 180 compared to the past couple seasons. Anthony Rizzo had an RBI double and an RBI single, while Kris Bryant had his own 2-out magic with a 2-run single in the 3rd.
The top of the order was awesome; spots 1 through 4 (Fowler, Soler, Rizzo and Bryant) combined to go 8 for 14 with 3 runs scored, 4 RBI, and 2 walks.
The Bad
Not to nitpick here, but Addison Russell had an error (his 2nd) in the 5th inning and it could have at least been a force out, if not a double play, but he had trouble moving it from his glove to his hand (it was pretty damn cold) for the toss.
But like I said, in the grand scheme of things this error did not turn into anything of importance as Hammel was able to pitch out of trouble, getting the pitcher to sacrifice for an out and then striking out Harrison with men on 2nd and 3rd for the final out of the inning.
The Ugly
Nothing ugly in a 4-0 shutout win for the Cubs.
On Deck
Game 2 of the series will start tomorrow at 7:05 PM (CST) and will feature two lefties: Travis Wood (1-1, 3.24) for the Cubs against Jeff Locke (2-0, 3.32) for the Pirates.