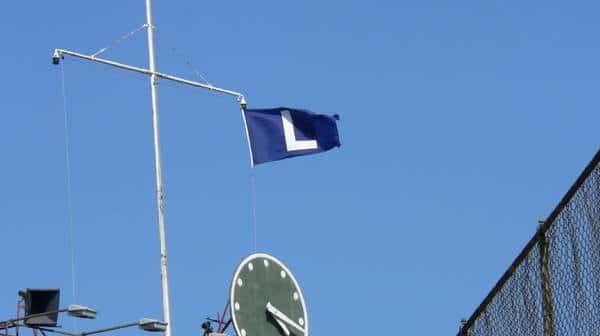 A Tip of the Recap April 29th
Well, you can't win 'em all. The Cubs lost the final game of their 3-game series with the Pirates by a score of 8-1.
The Good
Miguel Montero had 3 hits to bring his BA up to .261 and drove in a runner for his 10th RBI.
Anthony Rizzo reached base 2 more times tonight (a single and a HBP), but as a whole there wasn't a great deal of offense for the Cubs.
Kyle Hendricks wasn't great, but he wasn't that bad either; just nibbled a little bit too much. He finished with 5 innings pitched and gave up 2 runs (both earned) on 5 hits and an uncharacteristically high number of walks (3).
Edwin Jackson came in and gave 2 solid innings of relief, surrendering only 2 hits, while striking out 3.
The Bad
I have been beating this drum for a while now, but Jorge Soler is really struggling to make consistent contact. He struck out 2 more times, with the last coming in the 8th inning with 2 men on base.
The D made a couple errors tonight; one was by Montero on a rather poorly thrown ball to second on a stolen base attempt by Marte and the other was on a grounder smashed to Bryant at 3rd.
The Ugly
Gonzalez German came in for the 6th inning and did what Brian Schlitter had been best known for, which is give up a bunch of runs. In his only inning, he surrendered 4 runs (all earned) on 4 hits, 2 walks and 2 Ks.
Phil Coke was almost equally bad, giving up 2 runs (both earned) on 3 hits in his inning of work. In my opinion, Zac Rosscup has surpassed Coke as the first lefty out of the pen and if Coke doesn't clean things up here soon, he may not be long for this world. That's especially true with James Russell waiting and doing well in Iowa.
On Deck
The Cubs are off tomorrow, but will welcome the Brewers for a 3-game series on Friday. Game One will feature Jon Lester (0-2, 6.23) going up against Wily Peralta (0-3, 5.04); first pitch is at 1:20 PM (CST) and the game will be televised on CSN and the MLB Network.