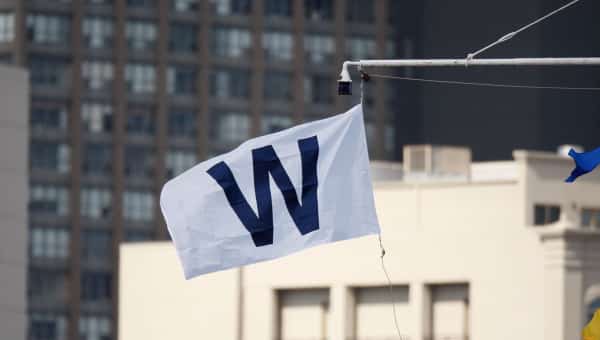 A Tip of the Recap May 1st
The Cubs didn't do much offensively, but they did enough and Lester, Strop and Rondon were all lights out to finish the 1-0 victory over the Brewers.
The Good
Jon Lester was every bit as dominant as the front office hoped for when they gave him his huge deal. He went 7 innings and gave up just 3 hits and 1 walk with 4 Ks. He was replaced in the top of the 8th at just 90 pitches, so he was effective and economical as well. He lowered his ERA to 4.37 and earned his first NL (and Cubs) win.
Addison Russell provided all the offense today with his first career HR (a solo shot) to just left of center. It wasn't a great day for hitters, but he got enough of it to park into the unfinished bleachers.
Soler and Castro both added a couple singles each to bring their averages to .259 (Soler) and .333 (Castro) respectively.
Anthony Rizzo added a single and his 8th HBP to reach base 2 more times today. He is currently 2nd in OBP in all of baseball behind only Matt Holliday.
Kris Bryant is the picture of patience at the plate; he had 3 separate ABs today that went to full counts and he drew 2 walks. With he and Rizzo getting on base as much as they are, the 5th and 6th hitters are getting plenty of opportunities to drive in runs.
Pedro Strop was FILTHY today in relief of Lester in the 8th inning. He pitched a perfect inning with 2 Ks for his 3rd hold and to keep his ERA at a spotless 0.00.
Hector Rondon dispatched the first two hitters he saw in the 9th (Braun, Khris Davis) via Ks then gave up a double before inducing the final out via a ground out by Adam Lind on a bat that was destroyed. It was Rondon's 5th save and his ERA is at a miniscule 1.64.
The Bad
The Cubs had a few "overly aggressive" base-running adventures today that may have cost them a couple runs, but a win is a win and being a bit too aggressive is much better than making just a boneheaded decision.
The Ugly
Nothing ugly to see in this game except for maybe Jeff Garlin's appearance in the top of the 7th as sat in the booth with JD and Len leading up to his singing of the 7th inning stretch. He was laughing loudly and awkwardly at things that didn't appear to be overly funny. I'm on board with former CI contributor @WilcoMeThat's petition to bring back Harry singing Take Me Out To The Ballgame on the jumbotron.
On Deck
The Cubs will look to take game 2 tomorrow with Jake Arrieta (3-1, 2.03) on the hill against Mike Fiers (0-3, 5.79) for the Brewers. The game is set for a 1:20 PM (CST) start and will be shown on CSN.