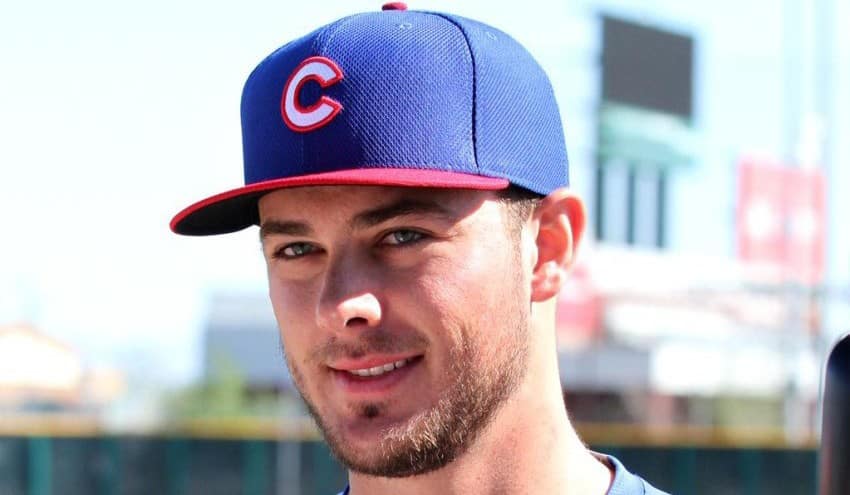 Kris Bryant Not Worried About HR Drought, Knows He's Due
We all knew that Kris Bryant was going to strike out a lot, but we also figured he'd be hitting so many home runs that we'd all forget about the swings and misses. And that makes a lot of sense when you look at his minor-league numbers, which included a home run every 11.8 at-bats and a strikeout every 3.1 or so.
The K's have certainly been there so far in his time with the Cubs (18 in 50 AB's, or 1 out of every 2.78), but the power is lacking. In 14 games so far, Bryant has only 4 extra-base knocks, none of which have gotten him beyond 2nd. Well, except for that Little League homer he hit a couple weeks ago.
Given the way MLB pitchers have been treating him though, none of this should come as much of a shock. As I reviewed last week, Bryant is seeing strikes about 40% of the time as compared to the league average of around 47%; he's just not getting many pitches to hit.
I wouldn't blame you for feeling a little down about the dearth of dingers, but if you're worrying about the young man getting impatient and pressing, don't. CSN Chicago's Tony Andracki had a great piece on exactly that on Saturday, explaining how Bryant is keeping his head up despite struggles.
"It's baseball, man," he said before Sunday's series finale with the Brewers. "It happens all the time. Just play the game. Have fun with it. I never look into a bad game too much."

Bryant hasn't gotten a hit in his last 10 at-bats, watching his average dip from .341 to .280. He went 0-for-4 with four strikeouts in Saturday's loss and now has whiffed 18 times in his first 15 big-league games.

"That's what happens in the major leagues," Cubs manager Joe Maddon said. "You have to adjust. He was swinging at some pitches out of the zone [Saturday] too.

"Just get back into the zone because that's something he had been doing well coming out of spring training. He wasn't chasing.

"He's been doing really well at maintaining the integrity of the strike zone. I'm fully confident he's going to do it again."
That last quote from Maddon sounds like something pulled straight out of The Big Book of Baseball Idioms, but just because it's a bit trite doesn't mean it's not true. While it'd be natural for a power hitter to expand his zone as the result of an outage, Bryant is indeed remaining patient.
In fact, after walking once in every 6.55 at-bats in the minors, the Cubs third baseman is taking free passes in one of every 4.17 AB's in the Bigs. That's 36% better, an incredibly impressive increase when you consider the improved accuracy and stuff of pitchers at this level.
If he's feeling the need to change his approach, Bryant sure isn't showing it at the plate. Not that he'd ever openly admit to feeling the pressure to park more balls in the yard, but he is at least saying all the right things when it comes to his expectations of himself.
"I could go the whole season without hitting a home run, as long as we're winning games," he said. "Right now, we're doing pretty good, so we'll see.

"But I know the type of player I am and like I said, it's a percentage game with me. I hit home runs and I'm due. Yesterday, I was due for a bad game. It happens."
Some players need constant feedback and the benefit of an outside source or two in order to make little adjustments to improve. And while no man is an island, there are those players whose preternatural ability to just "get it" allows them to excel. Bryant seems to be just one of those guys, or at least that's what it sounds like coming from him.
"I don't think I need to be talked to," Bryant said. "I've been through this plenty of times before. It's part of the game. It's a hard game. The ball is small, the bat is small.

"You gotta take it with a grain of salt and learn from it and that's what I'll do."
Ah, more pithy proverbs. But most sayings only grow worn and frayed because they contain more than a little truth, and such is the case with this one. I'd be pretty concerned if Bryant was expanding his zone and helping pitchers out, but that doesn't seem to be the case. At least not yet.
I don't mean to qualify the kid's patience or say that I think it'll run out, but I do think it's something to keep an eye on. In an ideal world, Bryant's power stroke rounds into form in St. Louis and this post becomes obsolete even faster than most of mine tend to.
Bryant said that he was due for a bad game, and also that he was due for a home run at some point. I'm going to take that just a step further and say that I really believe that that first shot is going bust the dam wide open and lead to a flurry of homers.
But doing so in the Gateway City isn't going to be easy; the trio of Carlos Martinez, Lance Lynn, and John Lackey allow only .73 HR/9 innings (7 in 87 innings so far in 2015). The wild card will be Tyler Lyons, who will be making his first start of the season in place of injured ace Adam Wainwright. In 12 starts over the last 2 years, however, Lyons has only allowed .5 HR/9.
And that's where the real fun lies, isn't it? On one hand, you've got a stud prospect who's due to break out in a big way and on the other, you've got a pitching staff lauded for its ability to keep the ball in the park. It's not really a combination that works in Bryant's favor, but that's exactly why I'm saying it will; mark the tape, Bryant's going to hit 2 bombs in the series.
It's a hard game. The ball is small, the bat is small. But Kris Bryant is the next big thing, and I've got a feeling he's about to show us all why this week in St. Louis.