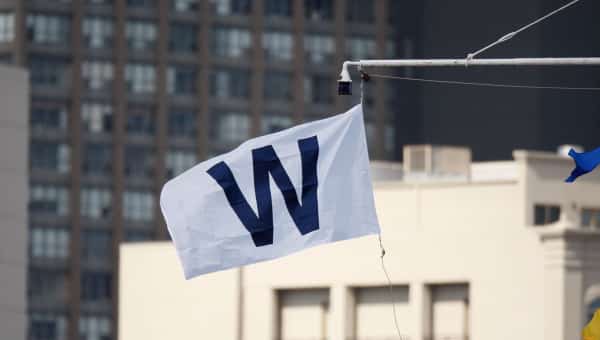 A Tip of the Recap – May 8th
The Cubs clubbed 4 HR's and Hector Rondon did just enough to keep the lead, as the Cubs took game 1 of the series with the Brewers by a score of 7-6.
The Good
Dexter Fowler broke out of his slump in a big way tonight. He went 2 for 4 with his 10th career leadoff HR on just the 2nd pitch of the game. He later added a double, stole 3rd, and scored on an RBI single by Rizzo, then added a walk in the 9th.
Speaking of Anthony Rizzo, he also had an outstanding game. He finished 2 for 4 with a mammoth solo HR to the upper deck in RF. He added his 2nd RBI of the night on a RBI single to right against a tough lefty (Will Smith). Rizzo is now hitting .333 with 6 HR and 17 RBI.
Jorge Soler is settling in very well and he hit a moonshot to straight-away CF for a 2-run HR in the 4th inning. It was his 3rd HR and he now has driven in 13 RBI for the year to go along with a .282 AVG.
Jason Hammel started off very shaky in the first inning but settled in and had a great start. In total, he went 7 innings and gave up just 2 runs on 5 hits, 3 walks with a season high 8 Ks.
Addison Russell extended his hit streak to 11 games with an infield single in the 9th inning; he also advanced to 3rd on a couple throwing errors by the Brewers.
Kris Bryant beat out an infield single to drive in the 7th run of the game, which ended up being huge as you can see by the final score. He was originally called out, but after further review the call was reversed and he was called safe, allowing the run to score.
The Bad
Starlin Castro did crush a HR to left, but to me he has kind of lost himself at the plate as of late. He keeps trying to pull everything and his entire momentum is pulling his body towards 3rd base. He is swinging at pitches low and outside, but instead of going with them to right he is coming up empty on his swings. He had 2 more K's tonight and though his BA is still a respectable .293, it has been kind of in a freefall.
Where have you gone, Pedro Strop? He has looked real rough recently and gave up an RBI double to Khris Davis in the 8th on a line shot to the RF wall, then intentionally walked the next guy before finally striking out the final batter of the inning.
Hector Rondon looked very uncomfortable pitching in the 9th with a 4-run lead. He walked 2 of the first 3 he faced and gave up a lot of contact, including a 3-run HR to Ryan Braun to make the game too close for comfort. His velocity was good and normal though (96 on his fastball), so hopefully this was just a weird night.
The Ugly
Contact continues to be a mystery for this Cubs team. They K'ed 15 times tonight including 11 times at the hands of starter Jimmy Nelson. Bryant struck out 3 times, while Montero, Soler, Castro, Coghlan and Russell each struck out twice.
On Deck
Game 2 is tomorrow at 6:10 PM (CST) on CSN and will feature a matchup of Travis Wood (2-1, 4.40) for the Cubs against Kyle Lohse (1-4, 7.01) for the Brewers.