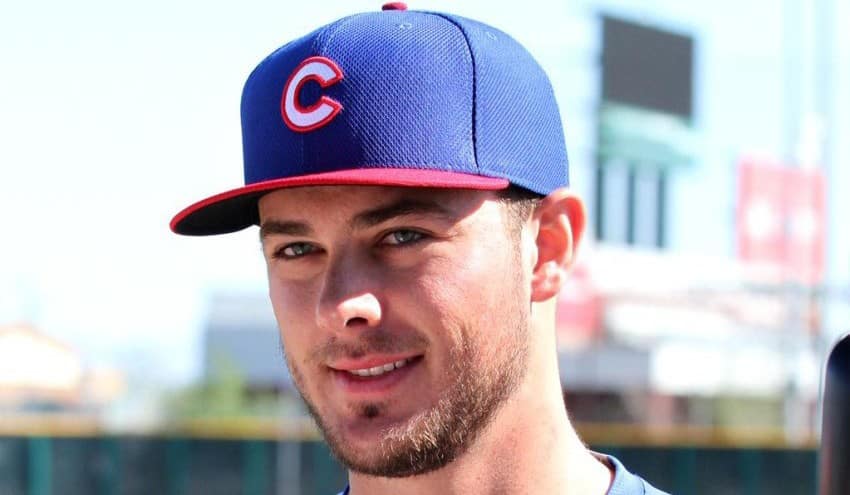 Rainmaker: Kris Bryant Salts Clouds for First Career Home Run, One-Ups Teammates' Silent Treatment (Video)
This really awesome Cubs blogger for whom I have the utmost respect had just written the other day that Kris Bryant might need to start jumping on more first-pitch strikes. Okay, I might be a little buyest in my opinion of this guy, especially since the much more established Sahadev Sharma shredded the idea that Bryant's being too passive.
But whether he's been taking too many or fouling too many, Kris Bryant had no trouble with the first pitch he saw from Kyle Lohse with two men on in the top of the 3rd. Bryant sat on the 83 mph slider and launched a shot that nearly took the roof off of Miller Park, both due to its towering height and the roar from the home crowd.
One has to believe this will break the seal, so to speak, and allow the kid to relax a bit more. Lord knows it'll shut up the doubters who have begun to speak up of late. Why, just today, this comment was left in response to another of my posts about Bryant:
…not only did Bryant fail to hit a home run in the 4 game series in St. Louis but the Cubs just hit 4 home runs in a game at Milwaukee and Bryant did not have any of them. Everyone is gushing and falling over themselves to praise him for (gulp) running out a grounder in which he was called out but was overturned (rightly) and it scored a run that eventually helped the Cubs overcome their crappy bullpen and win the game.

Home runs? Tick tock, tick tock….still waiting. Face it. When are people just gonna admit this kid can't hit major league pitching at anything above average level. Superstar? Pleeeeeeeeze. He's a guy…not a bad one, not an especially good one.
Sounds about right.
In any case, if there was anything better than the bomb itself, it was the Cubs' reaction to it. As Bryant trotted stoically around the bases, his teammates were sprinting into the dugout to give him both the silent and vacant treatment. Ah, but Bryant was wise to their scheme.
Without breaking stride or being taken aback by the gesture, he calmly made his way to the dugout and immediately ran back to the clubhouse to collect his well-deserved congratulations. Just when you thought you couldn't like the guy more, he goes and does something like this.
You see, it's not just about the immense talent. Bryant's preternatural awareness is truly beyond his years, maybe beyond anyone's years. Call it cheesy or corny, but that's the kind of extra dimension you only see in the great ones. Plenty of players are really good, but only a select few really get it, and Bryant looks like he could be one of them.
Bask in it, Cubs fans.