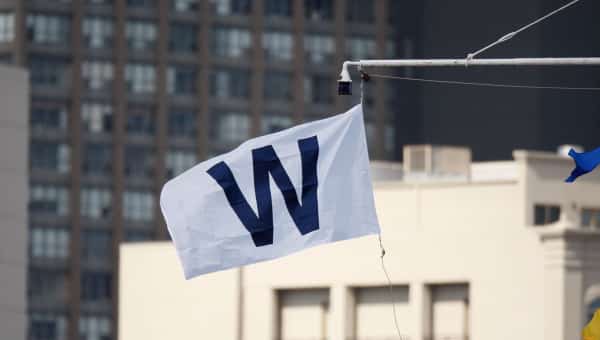 A Tip of the Recap – May 11th
Kris Bryant and Anthony Rizzo powered the Cubs' offense and some great defensive plays by Starlin Castro in the 9th allowed the Cubs to beat the Mets by a score of 4-3 tonight.
The Good
Kris Bryant hit his first HR at home tonight and it appears he was just waiting for some fans to be around for him to do it. He deposited a pretty decent shot just below the jumbotron in LF. He also walked twice and though his batting AVG is down to .265, I don't think anyone would be disappointed if he hovered around that or just a little higher for the rest of the season with his advanced on-base skills and power.
Anthony Rizzo followed Bryant's 2-run shot with a solo shot to RF for his 7th HR and 19th RBI. He did have a chance with 2 outs and the bases loaded and grounded out to the pitcher, but hey, the HR was still awesome.
Addison Russell drove in the 4th run with a 2-out RBI single to right that scored Chris Coghlan who was 2 for 4 on the day.
Jon Lester was able to make it all hold up with 6 innings of 3-run baseball on 5 hits (2 HRs-back to back shots) and 4 walks (though the zone was absolutely inconsistent all night). He struck out 6 and has now won his last 3 starts and his ERA is at 4.10.
Grimm, Rosscup and Rondon got the job done with 3 scoreless innings that were filled with good D and a little bit of luck on some hard-hit balls, but either way they held onto the lead and that is all that matters.
Starlin Castro didn't do anything at the plate but made a fantastic play on a liner up the middle that he dove to his left to snag after Rondon walked Granderson to lead off the 9th. If he doesn't make that play the inning is much different, with Granderson possibly making it to 3rd with no outs.
The Cubs as a team drew 6 walks tonight versus only 8 K's and they really made Mets' starter Jacob deGrom work all night. It took him 97 pitches to get through 5 innings and the Cubs got into the pen early, which is a good start for a 4-game series.
The Bad
Rondon is getting a little worrisome to me and he didn't do anything tonight to dispel those thoughts. He walked the leadoff guy and gave up 2 very hard-hit balls that were luckily stopped (thankfully for Castro's diving stop and Russell sticking with a bobble to start the double play). Either way, after the outing Rondon had at Milwaukee, I was hoping for a much better performance.
The results were obviously favorable, but I just don't know that you can count on Castro to make that play consistently. It was quite a shot off the bat, but still an awesome stop by Starlin. I would like to see a little more consistency from Rondon at the back end of the pen.
The Ugly
Nothing to really mention here, really nice to see folks in the LF and CF bleachers, as it felt normal again. The jumbotron in RF is also a nice touch and will provide an even better experience for the fans.
On Deck
Game 2 will be at 7:05 PM (CST) on CSN+ and MLB Network and feature the MLB debut of Noah Syndergaard for the Mets as he faces off against Jake Arrieta (3-3, 3.41) for the Cubs. Arrieta needs a good consistent start that will hopefully take him deep into the game to save the pen (or me from watching the pen struggle).