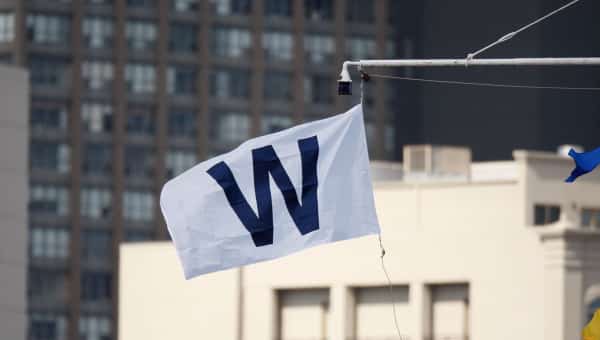 A Tip of the Recap – May 12th
The Cubs played a great game and got the win by a score of 6-1 over the Mets. 
The Good
There were a ton of good (or even great) things from tonight's game: offense, pitching, defense, really a complete game for the Cubs.
Kris Bryant was an offensive juggernaut tonight, going 3 for 4 with a single, triple and his 3rd HR. He also walked once and is now hitting .276 with 19 RBI. Defensively, Bryant made some very nifty plays on hard-hit balls; most impressive was that he calmly took his time and made strong, accurate throws to first.
Anthony Rizzo reached base 4 more times today via a double and 3 walks. He is hitting .330 with OBP of north of .450. His maturation as a superstar for the Cubs has been as fun to watch as Bryant's first taste of the big leagues.
Starlin Castro looked great at the plate today, going 2 for 5 with 2 doubles (3 on the year now) and 2 runs scored. He drove in Soler with his first double (ripped down the LF line). He 2nd double was a one-hopper to the wall in left-center, after which he scored on Addison Russell's 7th double.
Chris Coghlan made solid contact today, including a lineout to LF that took a diving play by Cuddyer to save a certain hit. Coghlan got his revenge later in the game when he parked a 2-run shot out to RF (his 4th).
Jake Arrieta had the best outing by a Cubs' starter in 2015. He went 8 innings and gave up just 1 run on 3 hits, 2 walks with 10 Ks. It was a huge performance and really gave the pen a well needed break. He lowered his ERA to an even 3.00 and improved his record to 4-3.
The Cubs made Syndergaard work and drew 4 walks from him and 7 walks overall as a team. The patience this team has shown this season has been refreshing.
The Bad/The Ugly
I can't think of one thing to mention as bad or ugly from this game. It was an outstanding game and probably among the best the team has played all season. Offensively, the Cubs drew walks and hit for power. Defensively, they played errorless baseball, and pitching-wise it was a dominant performance by Arrieta.
On Deck
Tomorrow the Cubs will look to make it 3 in a row over the Mets, but the task will be tall with Matt Harvey (5-1, 2.72) on the hill against Jason Hammel (3-1, 3.52) for the Cubs. The game is at 7:10 PM (CST) and will be shown nationally on ESPN and locally on WGN.