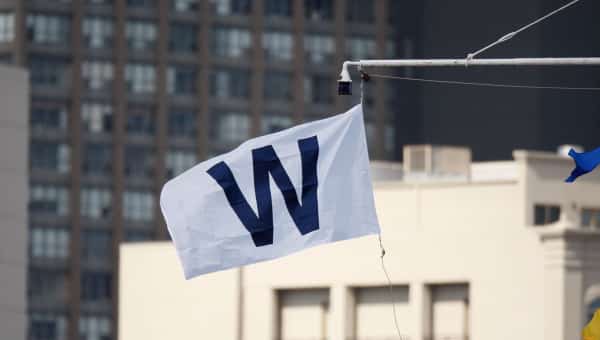 A Tip of the Recap – May 13th
The Cubs literally walked off tonight with the win after a bases-loaded walk gave the Cubs the 2-1 victory over the Mets.
The Good
Jason Hammel rose to the challenge of facing Matt Harvey tonight and pitched an outstanding game for the Cubs. He went 8 innings, gave up just 1 run (earned) on 5 hits and 1 walk with 6 K's to lower his ERA to 3.11 for the year.
Chris Coghlan didn't do much at the plate, but did drive in the winning run with his bases-loaded walk-off walk in the 9th.
Anthony Rizzo did Anthony Rizzo things; he got on base a bunch, he was 1 for 2, but also reached via a walk and his 9th HBP. His single led off the bottom of the 9th (he was then replaced by Matt Szczur as a pinch runner), which turned into the winning run.
Addison Russell continues to improve at the plate with a 2 for 3 day including his 8th double. His AVG is now up to .267 and he is tied with Rizzo for the team lead in doubles.
Matt Szczur was running with the pitch when Starlin Castro hit a grounder past short into LF, which allowed him to make it to 3rd with no outs and he ultimately became the winning run.
Hector Rondon came into the game in relief of Rosscup who gave up a single to Lucas Duda to lead off the inning. Rondon proceeded to retire the next 3 batters to set the stage for the victory in the bottom of the 9th.
The Bad
Jorge Soler struck out 2 more times tonight and now leads the league with 49 Ks, which is somewhat troubling. The most troubling K was in the bottom of the 9th with no outs and the bases loaded when any contact in the air would have won the game. Instead, he swung at a couple pitches out of the zone (really out of the zone and in the dirt). I have no doubt he will work it out here soon though.
Luckily the Cubs still got it done, but if they would have ultimately lost this game, I would have pointed back to Soler's AB in the 9th as a big contributing factor.
On Deck
The Cubs will go for the 4-game sweep tomorrow afternoon with a game starting at 1:20 PM (CST) on CSN. It will be a matchup of two lefties with Jon Niese (3-2, 1.95) for the Mets against Travis Wood (2-2, 4.96) for the Cubs.