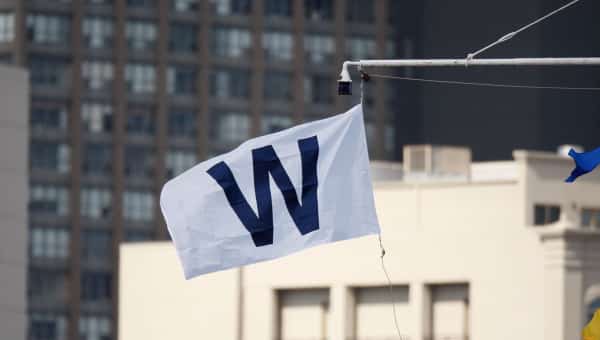 A Tip of the Recap – May 14th
The Cubs had to play catch-up but they did and came all the way back from being down 5-1 to win 6-5 and seal the 4 game sweep today.
The Good
Dexter Fowler was a catalyst for all kinds of action today. He got the Cubs on the board with a solo shot (his 3rd) in the 4th and finished the day 2 for 3 with 3 runs scored (including the winning run on a passed ball) and a walk.
Anthony Rizzo was 1 for 2 with an RBI single and 2 HBP to give him 11 on the season. Kris Bryant also added an RBI bloop single to give him the team lead, along with Rizzo and Castro, in RBI with 20.
The well-rested pen pieced together 4.2 scoreless innings with 9 Ks (15 total for the game) from Motte, Grimm, Russell, Strop and Rondon. Strop was especially filthy striking out 2 in 1.1 perfect innings and earned the win while Rondon closed the door in the 9th for his 8th save.
The Bad
Travis Wood was not especially sharp today, going only 4.1 innings and giving up 5 runs (all earned) on 7 hits (3 solo HRs), 1 walk and 5 Ks. Luckily the pen had been used very little over the past couple games, so they came in shut the Mets down. Wood has not been very good this month and Wada had an awesome rehab start in Iowa, so perhaps there will be some shifting in the rotation here soon.
Two of the three HRs that Wood gave up were to Anthony Recker (yeah, not known for his power) and he has very disturbingly given up 9 HRs over his last 5 starts.
On Deck
The Cubs will welcome the Pirates to Wrigley for a 3 game series this weekend. Game 1 is tomorrow at 1:20 PM (CST) on CSN and the MLB Network, Kyle Hendricks (0-1, 4.65) will start for the Cubs against Jeff Locke (2-2, 4.71) for the Pirates.