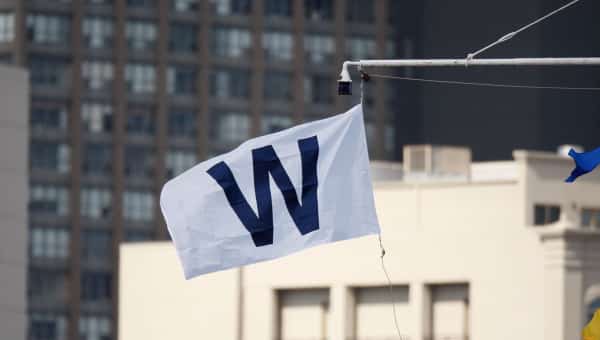 A Tip of the Recap – May 15th
Ummm, ok, that was interesting. The Cubs lead by margins of 7-1 and 10-5, but the Pirates battled back to tie it at 10, after which the Cubs walked off on a routine pop up to RF that saw Gregory Polanco slip and fail to catch the ball. It was quite the finish, but I will take it as the Cubs won 11-10 in 12 innings.
The Good
The top of the order was outstanding today as Fowler, Rizzo, Bryant and Castro combined for 7 RBI, 2 HRs, 8 runs scored, 4 BBs and a SB. Fowler had 2 hits with 2 runs, an RBI and his 9th stolen base of the year.
Rizzo had a solo HR (his 8th) and 2 singles (one was an RBI single) to give him a total of 22 RBI on the season to go with his .347 AVG.
Kris Bryant had a big game and is now the sole RBI leader on the team. He hit a 3-run HR (his 4th), drew 2 walks and had a sac fly to give him 24 RBI on the year.
Jorge Soler looks much better at the plate as of late and went 1 for 3 with an impressive RBI single that saw him stay with the pitch and just float it out to RF. He also drew 4 walks (2 intentional) and only struck out once while playing a solid RF defensively.
Starlin Castro went 2 for 4 with 2 walks and 2 runs scored (including the game winner). He also made some good plays at short including a heads up throw to 3rd to force a man instead of trying to go to 2nd for a force out.
Matt Szczur got the start in LF with the left-handed Jeff Locke on the mound and contributed with a 2-run single to left in the 5th to make the game 7-1. But his biggest contribution was the walk-off routine fly ball to RF that for no reason at all fell in for a GW single after Polanco slipped.
Miguel Montero did not get the start, but entered the game as a pinch hitter for Castillo in the 6th and contributed with a 2 for 3 day that including a HBP. Both of his singles put Castro only 90 feet away from scoring the winning run which eventually worked out for the Cubs
Zac Rosscup was very impressive in 1.1 innings of relief work today. He retired all 4 batters he faced and struck out 1 to lower his ERA to a decent 3.07.
James Russell gave 2 decent innings of relief, walking 2 and giving up only 1 hit to keep the game tied at 10.
The Bad
Kyle Hendricks was cruising and seemed like he was going to make it to the good section, but, like many of his starts, he just hasn't had the stamina to get through 6 quality innings so far. In seven starts, he has pitched 6 innings just once and 2 of his starts has seen him give up 5 earned runs.
In the 6th today, Hendricks alternated between getting an out and giving up an infield single before things unraveled for him and he had to be replaced by Justin Grimm, who allowed an inherited runner to score and had to be replaced without recording an out in his appearance.
Pedro Strop was trying to be too fine today and ended up getting pretty touched up today. He allowed both runners that he inherited from Jason Motte (who also failed to retire a batter) to score, then allowed another two of his own. Strop raised his own ERA to 4.32 and he also raised Motte's ERA to 5.52.
On Deck
Game 2 will be tomorrow at 3:05 PM (CST) on ABC 7 in the Chicagoland area and FoxSports1 nationally. The game will feature both teams' number 1 pitchers; Jon Lester (3-2, 4.10) for the Cubs against Gerrit Cole (5-1, 2.32) for the Pirates.