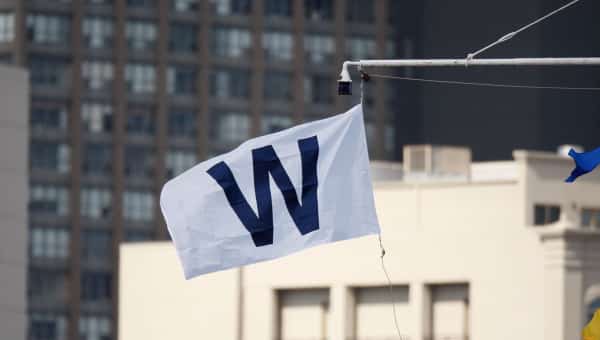 A Tip of the Recap – May 23rd
The Cubs came from behind twice and won in dramatic fashion by a score 0f 9-6 tonight over the D-Backs.
The Good
Anthony Rizzo had himself a day. He drove in 6 runs including a bases-clearing 3-run double (that just missed being a grand slam) in the 5th to give the Cubs the lead, then the big hit of the night, a 3-run HR in the top of the 9th to give the Cubs the 9-6 lead and ultimately the win. It was his 11th double, 9th HR and he now has 29 RBI (tied with Bryant for the team lead).
Jorge Soler was also clutch today, coming up huge with a game-tying 2-run double to right center off the wall in the 8th inning to give him 16 RBI on the year.
Kris Bryant extended his hitting streak to 12 games with a single and then drove in his 29th RBI via a HBP with the bases loaded to get the Cubs on the board in 5th and scored on both of Rizzo's big hits.
Jake Arrieta deserved better tonight, but errors lead to 3 unearned runs against him out of the 6 total he allowed in 6 innings. He gave up 7 hits (1 HR) and walked 2 while striking out 7 in a start that began very shaky after giving up 2 runs in the first inning, but he settled in nicely and was in cruise control until the defense failed him in the 5th.
The pen got the job done with Edwin Jackson, James Russell, Jason Motte and Pedro Strop provided 3 perfect innings of relief. Strop closed it down tonight for his 1st save of the year, with Rondon being unavailable after throwing over 20 pitches in last night's debacle.
Miguel Montero didn't do much at the plate (did get an HBP), but was a force defensively. He made a good play on a foul pop up on a bunt attempt by De La Rosa and also threw out both runners that attempted to steal.
The Bad
The defense wasn't great for Jake today. Kris Bryant had a throwing error in the 3rd but it didn't turn into any damage, unlike the costly error made by Addison Russell. Russell's error happened when he rushed things on a feed from Castro and instead of getting 1 out, he tried to turn 2, but couldn't catch the toss and both runners were safe. A walk to Goldschmidt loaded the bases and David Peralta cleared them with a double of his own to left-center.
On Deck
The Cubs will look for the series win tomorrow afternoon with first pitch scheduled for 3:10 PM (CST) on WGN. Jason Hammel (3-1, 2.70) gets the ball for the Cubs and he will faced Jeremy Hellickson (1-3, 5.52) for the D-Backs.