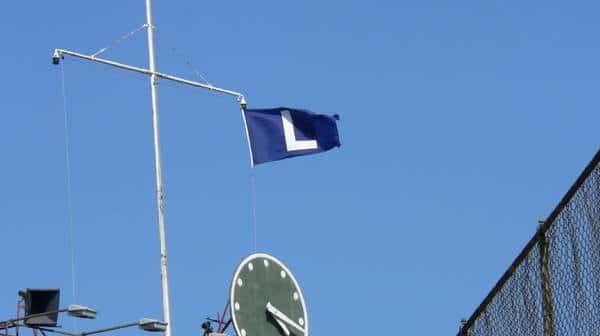 A Tip of the Recap – May 25th
The Cubs offense sputtered again today and could only manage to score 1 run and lost by a score of 2-1 to the Nationals.
The Good
Tsuyoshi Wada was decent enough today against a powerhouse offense from the Nationals. He went 5.1 innings and gave up just 1 run (earned) on only 4 hits and 2 walks with 6 K's. He got himself into and out of trouble a couple times today with some timely strikeouts.
Kris Bryant got the Cubs on the board in the bottom of the 1st with his 6th HR (a line drive shot) to left field. He also added an infield single and was hit by a pitch in the bottom of the 9th; Bryant is now hitting .282 on the year.
Jason Motte and Zac Rosscup each added scoreless innings and lowered their ERA's to 4.50 (Motte) and 4.08 (Rosscup). Motte had to work around an error by Rizzo and Rosscup induced a double play ball to get him out of an inning that saw him walk Bryce Harper.
Hector Rondon needed a good outing after the rough patch in Arizona this weekend and he did just that, putting in a perfect inning of relief in the 9th with 1 K.
The Bad
Justin Grimm's appearance wasn't that bad at all, but he did give up the winning run on a solo shot to Wilson Ramos in the 6th inning. The Nationals' lineup is deep and Ramos isn't some bush leaguer; he did hit 11 HRs last year and 13 HRs 2 years ago. It was just the first run, earned or unearned, allowed by Grimm this season.
The Cubs were robbed of at least 3 more runs by some outstanding plays in the field by the Nationals. Wada, Rizzo and Starlin Castro all had extra base hits (and probably RBI) taken from them by all 3 outfielders. Not really a "bad" situation, you just tip your cap and move on, but it did sting for the Cubs to lose a close one with the chances they missed out on today.
On Deck
The Cubs will try to take game 2 tomorrow at 6:05 PM (CST) that will be televised on ESPN nationally. Kyle Hendricks (1-1, 4.14) will look to build on his complete game shutout that he threw last time out for the Cubs, while the Nationals will counter with Jordan Zimmermann (4-2, 3.52).