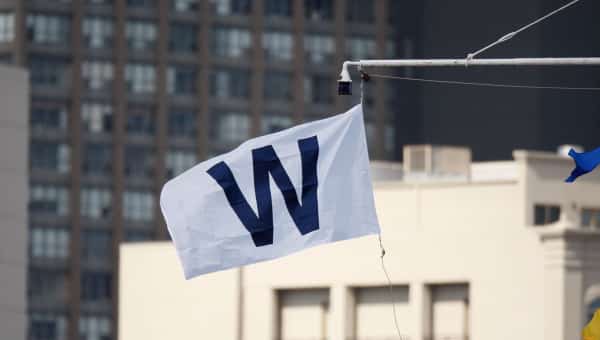 A Tip of the Recap – June 1st
The Cubs put up some runs early and Jason Hammel was dealing all night to lead the Cubs to a 5-1 victory over the Marlins.
The Good
Jason Hammel has been outstanding pretty much all season and tonight was no different. He went 6.2 innings and gave up just 1 run (earned) on 5 hits and 0 walks with a career-high 11 K's. He has a video game-like K:BB ratio of 69 K's to 7 BB's in 67 innings this season. He lowered his ERA to 2.82 and improved to 4-2 on the year.
The top of the order got things going today for the Cubs; Fowler, Bryant and Rizzo each reached 2 times tonight (1 hit and 1 walk) each. Rizzo and Bryant both had RBI doubles to give Rizzo 30 RBI and Bryant 33 RBI on the year.
Addison Russell had another nice night at the plate and now looks completely like he belongs at this point. He drove in his 15th RBI with a single in the 4th inning and also was HBP. He made some nifty plays on defense as well to make it solid night overall.
Starlin Castro crushed a solo HR to left center in the 8th inning to put the Cubs up 5-1. It was his 4th HR on the year and he is now hitting .265, but the flash of power was a much-needed display. He has been having more solid contact as of late, so hopefully this HR will get him going on a burst of power.
James Russell, Pedro Strop and Travis Wood got the job done out of the pen with 2.1 innings of scoreless baseball to finish the win.
The Bad
I won't harp on Castro too much here, but he did make another error on a very routine grounder up the middle. It was his 12th error of the year and the dichotomy of Castro was on full display because just a couple innings earlier he made an outstanding play on a soft line drive ticketed for CF. He can make the spectacular plays, but when it comes to ground balls right to him, those are the ones that give him the most trouble.
I know Castro is a lightning rod for hate when he makes a mistake and I am most certainly not in the camp that hates him for his miscues, I just find it perplexing that he can't make the play on a balls that for all intents and purposes look to be gimmes.
On Deck
Game 2 will be at 6:10 PM (CST) tomorrow on MLB Network and CSN Chicago. Kyle Hendricks (1-1, 3.76) will take the ball for the Cubs against lefty Brad Hand (0-1, 4.50) for the Marlins.