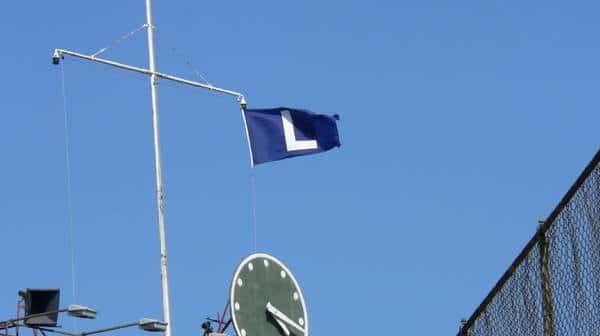 A Tip of the Recap – June 2nd
The Cubs lost the 2nd game of the series by a score of 5-2 to the Marlins tonight.
The Good
Dexter Fowler had a couple singles out of the leadoff spot today and scored the first run for the Cubs on a double by Anthony Rizzo (his 15th double and 31st RBI). Fowler needed a good game after struggling for a bit recently and Rizzo has just been the picture of consistency. It is getting to the point where a RBI double and walk are ho-hum for Rizzo
Junior Lake was a surprise in the cleanup spot for today's lineup but he didn't disappoint. He went 2 for 4 with 2 doubles (4 total on the year), including an RBI double in the 3rd inning.
Edwin Jackson actually had an impressive appearance in tonight's game. He pitched a perfect inning of relief and only needed 7 pitches (5 strikes) to get his 3 outs.
The Bad
Kyle Hendricks was oh so close to getting out of a big jam in the 5th inning, but instead gave up a bases-clearing double with 2 outs to make it 4-1. In all, he did finish 6 innings and gave up 4 runs (all earned) on 7 hits, 2 walks and 7 Ks. His ERA rose to 3.99 and his record fell to 1-2 on the year. It wasn't a terrible start, but it wasn't good enough and the worst part was that he was so close to getting out of it.
Zac Rosscup came in and cruised through the first 2 hitters and even got to 2 strikes quickly to Giancarlo Stanton, but then made a mistake with a pitch and elevated it in the zone and the big fella extended his arms and hit it out to RF to make the score 5-2. It was just one bad pitch, but it was definitely the wrong guy to make a mistake to and he didn't miss it.
Addison Russell made a terrible baserunning blunder in the 9th inning with only 1 out and men on first and second with Chris Coghlan at the plate. Coghlan singled to right and Russell rounded 2nd too much and out on a great throw by Stanton. It really took the air out of the comeback attempt and truly changed the complexion of the entire inning. Instead of bases loaded 1 out, it turned into 1st and 3rd, 2 outs and Miguel Montero struck out to end the game.
On Deck
The rubber match will start at 6:10 PM (CST) tomorrow night and it will be shown on WPWR (MyChicago 50) in the Chicagoland. Jon Lester (4-3, 3.30) will go for the series win against Dan Haren (5-2, 3.03) for the Fish.