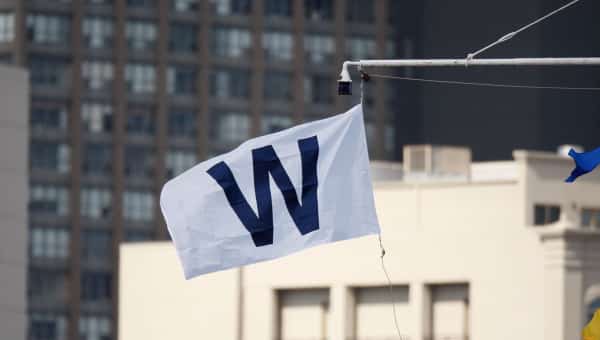 A Tip of the Recap – June 4th
The Cubs scored 2 in the 1st inning and held on to win by a score of 2-1 tonight over the Nationals.
The Good
Dexter Fowler and Anthony Rizzo each had 2-hit days. Fowler also scored a run but is only hitting .240; hopefully a hot streak is in the offing for him. Rizzo improved his AVG to .321 and both of his hits came off of lefties, which he has turned into an absolute strength over the past couple seasons. He came into today's game hitting .429 against lefties vs. .296 against righties.
Junior Lake looks like a different player this time around in the big leagues. He showed great patience in drawing a bases-loaded walk in the 1st inning then laid down a great bunt to 3rd for an infield single later in the game. While on base from his bunt single he advanced to 2nd on a wild pitch then stole 3rd for his 3rd stolen base of the season.
Addison Russell drew a walk at the plate, but his biggest contribution was a diving stop on a ground ball ticketed for CF in the top of the 8th inning. He made an outstanding throw and just beat Danny Espinosa at first. If not for that play, the Nationals would have had the leadoff guy on base in front of Bryce Harper. It really changed the complexion of the inning.
Jake Arrieta was on point tonight and had another quality outing. He went 6 innings and gave up 1 run (earned) on 6 hits, with 0 walks and 8 Ks. He lowered his ERA to 3.04 and improved to 5-4 on the year.
David Ross basically won the game with an amazing snap throw to first to pick off Clint Robinson to end the game with Anthony Rendon at the plate with 2 men on and 3-1 count. It does appear that he was actually safe, but results are all that matters and he was called out.
The Bad
The Cubs had plenty of chances to tack on more runs to make this game a little more comfortable. They really had Gio Gonzalez on the ropes in the first and did score 2 runs, but it could have been much better for the Cubs. Gonzalez was able to make it through 6 innings after throwing over 30 pitches in the first inning.
In the 8th inning the Cubs had guys on 1st and 3rd with 1 out and Chris Coghlan rolled into a double play when almost anything else would have scored Kris Bryant from 3rd. But luckily, 2 runs was just enough to get the win tonight.
Hector Rondon struggled mightily and was bailed out by David Ross's pick-off throw to 1st to end the game. Rondon does not look comfortable closing and has really struggled with his command at times. Maybe with Jason Motte's increased (and consistent) velocity he will get some chances to close.
On Deck
Game 2 will be tomorrow at 6:05 PM (CST) and it will be televised on CSN. The game will be a rematch from the Nationals' visit to Wrigley; it will be Tsuyoshi Wada (0-0, 2.30) for the Cubs vs. Tanner Roark (1-2, 5.29) for the Nats. Roark won the last matchup but it was a very well pitched game from both sides.