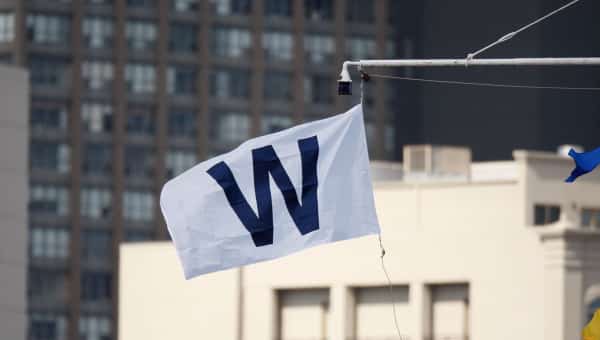 A Tip of the Recap – June 6th
Well, it wasn't a slam dunk, but the Cubs scored enough and shakily held on in the 9th to win 4-2 over the Nationals.
The Good
Dexter Fowler is starting get more and more consistent at the plate from the top of the order. He had another 2-hit day (his 3rd out of the last 5 games) and scored 2 more runs (40 on the year).
Anthony Rizzo is getting the job done day in and day out for the Cubs. He had 2 more hits today, including an RBI double (17th double, 35th RBI), and his now hitting .328.
Kris Bryant went 1 for 4 with an RBI single (34th RBI), and he didn't strike out after going down 3 times last night.
Jonathan Herrera got the start at 2nd today with Addison Russell shifting over to short to give Starlin a breather. Herrera was actually in the middle of some of the biggest innings for the Cubs. He reached on a bunt single and scored a run in the 2-run 5th inning, then he drove in an insurance run with a bloop single to CF in the top of the 9th. He also made some decent stops at 2nd.
Jason Hammel was outstanding today, going 8 strong innings and giving up 2 runs (both earned) on 5 hits (2 solo HRs), 2 walks and 7 K's. Today was just the 2nd time out of 11 starts that he has walked more than 1 batter. He did come out for the 9th but was replaced by Rondon in the bottom of the inning after Bryce Harper led off with a HR, but these starts are becoming common place for Hammel.
Pedro Strop wasn't overly dominant today, but he was good enough to clean up for Rondon and get the save for the day with 2 K's.
The Bad
Hector Rondon came in for the save, but walked the first guy he faced, Anthony Rendon, and was then replaced by Pedro Strop. You would have to think a change at the back end of the bullpen is in the works. The Cubs are reportedly very interested in Rafael Soriano and there is always a chance that they pick up someone like Jonathan Papelbon from the Phillies.
On Deck
The Cubs will go for the series win tomorrow afternoon against the Nationals; first pitch is scheduled for 3:o5 PM (CST) and will be televised on CSN. Kyle Hendricks (1-2, 3.99) gets the call for the Cubs and has a tough task ahead of him with the Nationals countering with Jordan Zimmermann (5-2, 2.88).