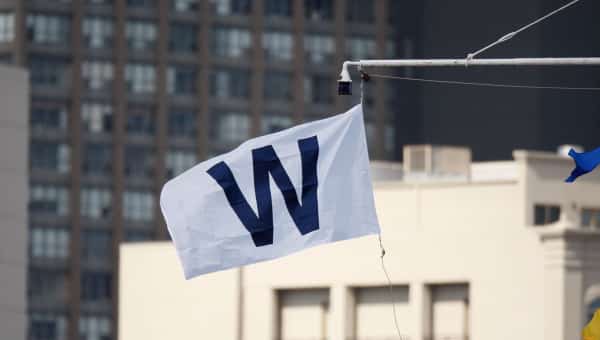 A Tip of the Recap – June 7th
The Cubs took the series (both the 4-game series and season series) with an impressive team effort in a 6-3 victory over the Nationals.
The Good
The Cubs had many offensive stars today, with multi-hit performances from Rizzo, Bryant, Coghlan, Castro and Denorfia.
Rizzo was 2 for 4 with 2 runs scored and his 18th double and a walk. He is now hitting an impressive .332 on the year and the level he has played at this season has been terrific. His ABs really are impressive and he doesn't seem to get himself out very often.
Kris Bryant broke out in a big way today finishing a HR short of the cycle. He went 3 for 4 with 2 runs and a walk on the to bring his AVG to .282. His double was his 8th and the triple was his 2nd of the year. He hasn't really been struggling, but he definitely had slowed down offensively, so this was a good day for him.
Chris Coghlan has had great contact pretty much all season and those hits have been dropping in more and more recently. He had a 2-hit day with 2 RBI, 1 run, and a walk. He is still hitting just .225, but his BABIP has been low and he is starting to get more productive results. I really like him in that 5th spot of the lineup like he was today.
Starlin Castro made an error on a routine play that turned into an unearned run, but he did add have 2 separate RBI singles to give him 27 RBI to go along with his .265 AVG. The error was very frustrating, but at least he contributed in a big way offensively.
Chris Denorfia was activated today from the DL and had a great day at the plate. He went 3 for 5 with a run scored and is hitting .462 in limited ABs so far this season. If he can stay healthy and on the field he could see the lion's share of playing time in RF with Soler out with his sprained ankle.
Kyle Hendricks wasn't overly sharp, but he was good enough to get the win and went 5 innings giving up 3 runs (2 earned) on 6 hits (1 HR), 0 walks and 4 Ks. He lowered his ERA to 3.96 and improved to 2-2 on the year. He wasn't helped by his defense, but he did enough to keep the score where it was and the Cubs offense and pen did the rest.
Justin Grimm, James Russell and Hector Rondon worked the 6th, 7th and 8th, surrendering only 2 hits, 0 walks and 2 Ks.
Jason Motte looked like someone that is ready to take the ball at the end of games. He pitched a perfect 9th for his first save of the year with 1 K. He attacked the zone and didn't give in to anyone, he kept pumping that fastball in there and challenging the hitters.
The Bad
Starlin Castro's error was bad, but the game resulted in a win, so he won't get beaten up too much here, but to me he continues to show that he can't be relied on to play even an average shortstop. The front office (like any team) values defense, so I don't know how much longer these routine errors can be tolerated. But I digress; it was a good win and the error hurt, but ultimately didn't impact the game that much.
On Deck 
The Cubs are off tomorrow, but will head to Detroit for a quick 2-game series against the Tigers on Tuesday and Wednesday. Game 1 will start at 6:08 PM (CST) on CSN and will be a matchup of Jon Lester (4-4, 3.86) for the Cubs against Anibal Sanchez (3-7, 5.69) for the Tigers.