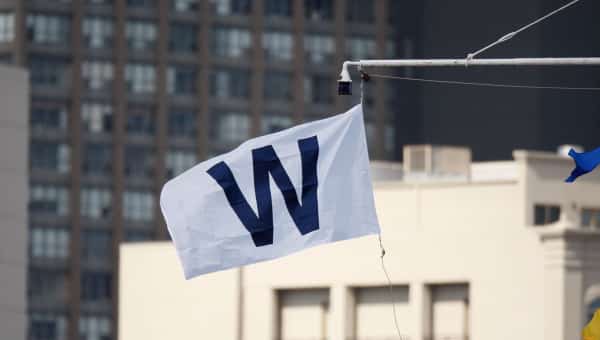 A Tip of the Recap – June 11th
The Cubs kept the bats going tonight and, despite Wada's bad start, still won by a score of 6-3 over the Reds.
The Good
It was awesome to have the bleachers in RF open and the game just had a different feel with people all around the field. The Cubs didn't disappoint either, parking 2 HRs out there for the fans in the newly-renovated bleachers.
The top of the order did most of the damage as hitters 1-4 went 6 for 14 with 4 walks, 5 RBI and 5 runs scored. Fowler had a 2 hit day including his 7th HR to bring his AVG up to .252.
Anthony Rizzo had a normal day: a double (his 19th), a walk and his 14th HBP to bring his AVG to .327 and his OBP just under .450. He also smashed a line drive out to RF that Bruce made a nice play on to rob him of extra bases.
Kris Bryant is showing signs of breaking out of his quiet phase at the plate. He hasn't been bad, but he hasn't done anything spectacular either, which I have grown accustomed to this season. He was 1 for 4 with an RBI double (9th double, 35th RBI) down the LF line to bring his AVG to .277.
Miguel Montero was the star again though tonight; he went 2 for 3 with a walk and his 2nd 3-run HR in as many days. Today's HR was in the 1st inning and gave the Cubs an early lead. It was his 8th HR and he now sits at 23 RBI on the year to go along with his .250 AVG.
The pen was about as outstanding as they have been all season tonight. Wada didn't make it out of the 4th inning for the 2nd start in a row. Travis Wood, Justin Grimm, James Russell, Pedro Strop, and Hector Rondon finished the last 6 innings with 2 hit baseball with 0 walks and 2 Ks. Travis Wood was very impressive and Grimm, Russell, Strop and Rondon all needed less than 15 pitches teach to get their work in tonight.
The Bad
Tsuyoshi Wada had another bad outing and gave up 3 runs (all earned) on 4 hits (1 HR, 1 triple to the opposing pitcher), and 2 walks with 4 Ks in only 3 innings of work. For what it is worth, Joe Maddon said during the postgame interview that he would like to see Wada become more "assertive" and trust his stuff and doesn't seem to be interested in replacing him in the rotation at this point.
On Deck
Game 2 is tomorrow afternoon at 3:05 PM (CST) on WGN and FoxSports Ohio. The game will feature a great matchup of Jason Hammel (5-2, 2.76) for the Cubs vs. Johnny Cueto (4-4, 2.64) for the Reds. Hopefully the bats stay awake and do some damage against Cueto.