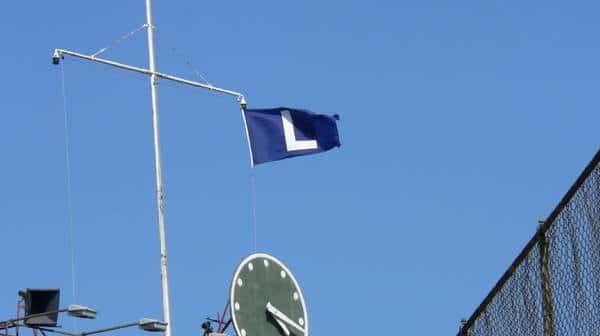 A Tip of the Recap – June 12th
The Cubs battled back today, but came up short in extras, losing to the Reds by a score of 5-4 in 10 innings.
The Good
Kris Bryant had a good day at the dish, going 2 for 4 with a run scored and a walk to bring his AVG to .282. He continues to hit better against righties and seemed to see the ball pretty well today (though he did K twice, once versus Chapman on a 99 MPH fastball).
Starlin Castro came up clutch with a game-tying 2-run HR down the LF line. It was his 5th HR and 29th RBI on the year and he got every bit of it.
Chris Coghlan had a 2-hit day including a leadoff infield single in the bottom of the 9th that saw him "respect 90" to beat out a bad throw from De Jesus. He has made it all the way to .241 for the year after starting off very slowly (though he has made good contact all year).
Addison Russell hit an RBI double in the bottom of the 2nd; it was his 13th double and 17th RBI and his now hitting .244 on the year.
The pen (except for Rondon's appearance) was outstanding again today and kept the Cubs in the game all day. Rosscup, Russell, Motte, and Strop combined for 4 hitless innings with 1 walk (Rosscup's) and 6 Ks.
The Bad
Jason Hammel battled and it was obvious that he didn't have his best stuff today. He managed to make it through 5 innings, giving up 4 runs (2 earned) on 7 hits (1 HR), 3 walks and 7 Ks. The line doesn't look terrible, but he really struggled with his command and on the broadcast Len speculated that his recurring blister may be rearing it's ugly head.
The bullpen has been used a bunch this week and they really needed a good outing from Hammel with Kyle "I usually only go around 5 innings" Hendricks getting the start tomorrow. Hopefully he will go deep in the game and give the pen a break.
Kris Bryant made an error in the top of the 9th on a grounder hit right to him by Todd Frazier; a single to right by Jay Bruce moved Frazier to 3rd with no outs.
Hector Rondon was a tough-luck loser today; like I said Frazier reached on an error, but Rondon gave up hits to Bruce, then struck out Pena before allowing the go-ahead single by Suarez (it was an unearned run) and he got the loss, but it was really just a bad series of events.
On Deck
Game 3 of the 4 game tilt will be tomorrow evening at 6:15 PM (CST) and will be nationally televised on Fox. Kyle Hendricks (2-2, 3.96) gets the call for the Cubs and hopefully he can go deep into the game with the pen getting taxed pretty heavily this week; he will go against Mike Leake (3-4, 4.29) for the Reds.