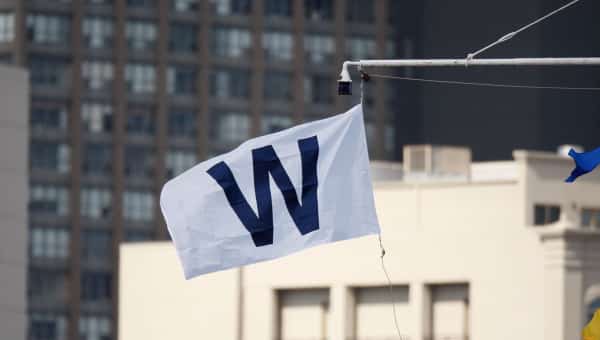 A Tip of the Recap – June 14th
The Cubs came from behind again and Starlin Castro delivered another walk-off hit to win the game for the Cubs by a score of 2-1 in 11 innings over the Reds.
The Good
Obviously Starlin Castro being clutch was the story of the night. He finished 3 for 5 with with the game-winning RBI single (his 32nd RBI) and he is now hitting .268 on the year. He also cut down Brandon Phillips at the plate with an outstanding relay throw that kept the game at 1-0 Reds (instead of 2-0)  in the 6th.
Chris Coghlan got the winning rally started with his 2nd double of the night with 1 out in the 11th inning. He also added a walk earlier and now has 11 doubles to go along with his .249 AVG.
Kris Bryant extended his hit streak to 11 games with a double (his 12th) in the bottom of the 1st.
Jon Lester gave the Cubs what they needed out of their ace tonight; he went 7 innings and gave up just 1 run (earned) on 5 hits, 0 walks and 4 Ks. He lowered his ERA to 3.99 and would have saved the pen if not for extra innings; either way, it was a good start and one that he really needed after a rough patch.
The pen wasn't as sharp as it has been, but there were good performances from Rondon, E-Jax and Schlitter (of all people) sprinkled in there. Motte got into some trouble (okay, a bunch of trouble) with a bases-loaded situation with no outs, but escaped completely unscathed, which was huge.
The Bad
Nothing bad about another walk-off win to put the Cubs a season high 7 games above .500. Like I said, the pen was shaky at times, but overall got the job done and held on long enough for Castro to deliver, which gave the Cubs the 3-1 series win.
On Deck
The Cubs welcome the Cleveland Indians to Wrigley for 2 games before heading to Cleveland for 2 games. Game 1 will feature a solid matchup of Jake Arrieta (6-4, 3.16) for the Cubs against Trevor Bauer (5-3, 3.53) for the Indians. First pitch is set for 7:05 PM (CST) and will be shown on WPWR in the Chicagoland area.