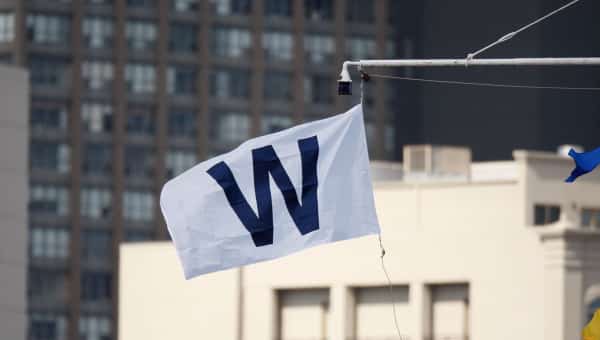 A Tip of the Recap – June 17th
The Cubs slugged their way to an outstanding victory by a score of 17-0 (not a typo) over the Indians tonight.
The Good
The Cubs pounded out 18 hits, including 4 HRs (accounting for 11 of the 17 runs), 2 doubles and a triple on their way to the most lopsided of games (forget you, run differential). Every starter had at least 1 hit, with 6 Cubs having at least 2 hits.
Kyle Schwarber can play a bit; he went 4 for 5 with 3 runs scored and 2 RBI. His first Major League hit was an RBI triple down the 1st base line to score Chris Coghlan from 1st. He made solid contact all night and with Miguel Montero getting a late scratch due to a sore back, he was moved up in the lineup to the 6 spot and delivered in a huge way.
Kris Bryant extended his hit streak to 13 games with a single in the 6th, but then contributed in a big way with his first career grand slam in the 9th. It was his 8th HR and he now has 39 RBI to go along with his .295 AVG.
Addison Russell also flexed some muscle today, going 2 for 5 with his 5th HR (a 2-run shot) in the 2nd inning. He later added an RBI single to give him 20 RBI on the season. Oh, he also made a just ridiculous play up the middle; he dove to his right on a ball on the shortstop side of the bag, popped up and made a strong throw to get the out. He continues to improve at the plate and has to be in the discussion for best defensive second baseman in the league.
Anthony Rizzo broke out of his mini-slump with some extra-base pop tonight. He hit his 12th HR (2-run shot) and added his 20th double to finish the day 2 for 4 with 2 RBI. He and Bryant are tied for the team lead in RBI at 39 and his AVG is back up to .306 after sliding over the past few games.
The 2 outfielders named Chris also contributed in big ways at the plate. Coghlan reached base 5 times (2 hits and 3 walks) and scored 3 runs, while Denorfia showed some pop, going 2 for 5 with 4 RBI, a double and a 3-run HR.
Tsuyoshi Wada had the kind of game that he absolutely needed to have tonight. He went 7 strong shutout innings, giving up just 4 hits (all singles) with 2 walks and 4 Ks. He lowered his ERA to 3.59 and looked much more assertive all night, granted he was helped by the fact that he had a huge lead, but sometimes those are even harder to pitch during than close games.
Yoervis Medina made his Cubs debut and pitched the final 2 innings to perfection to close out the victory.
The Bad
Well, I can't think of one thing remotely worth mentioning in a game that ended 17-0. Schwarber's ABs were must-see TV and he did not disappoint (hitting a triple and an infield single). It was good to see everyone break out in a big way after getting shutout last night.
On Deck
The Cubs will finish their home and home tomorrow night at 6:10 PM (CST) on CSN. Jason Hammel (5-2, 2.81) will look to rebound after a rather rough outing last time against Ohio's other team and he will go up against Danny Salazar (6-2, 3.54) for the Indians, who has been one of their best pitchers all season.