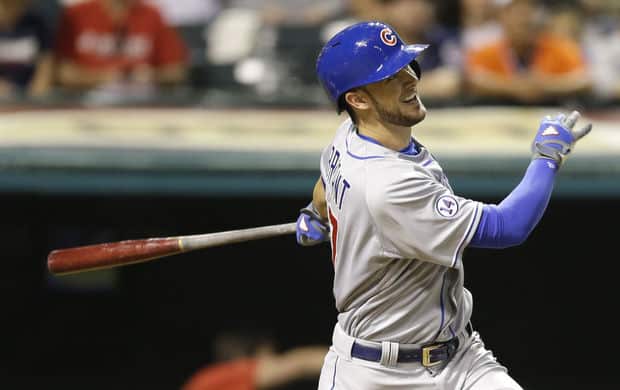 Hot in Cleveland: Cubs Bust out Bats for Historic Beatdown
17-0.
That's more like the final from a Bears/Browns game, not something you'd expect to see from a couple baseball teams. But the Cubs managed to score two field goals in the 2nd inning, then notched a couple of safeties in the 3rd before capping the game with a touchdown in the 9th.
In what became the most lopsided interleague shutout of all time, Cleveland ended up sending 9 pitchers to the mound, two of whom were actually position players. I'm pretty sure manager Tito Francona won his daily Fitbit challenge with all those trips to the mound.
All told, the Cubs collected 18 hits, 4 of which left the yard. Every single batter in the lineup collected a hit, even Mike Baxter, who entered in the 8th to pinch-hit for Anthony Rizzo. Everything that could go right for them did. Put it this way: even Andrew Jackson felt bad about how the Cubs treated the Indians on Wednesday night.
But the game was far from a Trail of Tears for those involved; there were plenty of smiles and jokes from both dugouts as the game devolved into the absurd. I know some of the fans in Cleveland were upset with their team's flippancy, but when you've got outfielder David Murphy coming on in relief of DH Ryan Raburn, what can you do but laugh?
I, for one, was quite amused by the goings-on, particularly David Ross's blooper that landed safely in the grass when Francisco Lindor — who was making his home debut — allowed it to fall. By the time Kris Bryant launched a grand slam into the deepest part of the park in center, I was laughing hysterically.
Perhaps the most amazing part of the evening was the fact that the Cubs were able to hit the ball so well. The air was a bit heavy and humid, not to mention laden with smoke and ash from the hopes of Cleveland sports fans that had gone up in flames not 100 yards away only one night prior.
But take heart, Cleveland: you've still got Johnny Manziel and Josh McCown. On second thought, you might want to keep those gas masks and fallout shelters at the ready.
Upon arriving downtown, I headed over to Wilbert's, a local bar known for live music, to pay a visit to Danny Rockett (@SonRanto on Twitter) and to catch a quick set from his band, Bad Teenage Mustache. But when I entered the bar, the stage was bare and the place was crawling with 30- and 40-something women dressed in their best moms-going-out-for-ladies-night attire.
As Danny explained, the New Kids on the Block concert next door had served to shift the normal demographics of the bar. This should have been an indication that the night was going to be a weird one.
My seat behind the Indians dugout gave me a great vantage point of the hitters, particularly the lefties, so I was able to try my hand at using Periscope, the newish live video streaming app from Twitter. By doing so, I actually had live coverage of Kyle Schwarber's first big league hit about 5-10 seconds before the broadcast, which was cool.
That kid can really be something special; he just seems so composed and comfortable out there, and I'm really impressed by the way he's able to generate such bat speed with what appears to be a pretty effortless swing. In that, he's much like Kris Bryant. I'm not talking about their mechanics or physical similarities, but just the way they both just seem so free and easy.
It didn't hurt that Indians starter Shaun Marcum was not on his game at all, giving up 6 runs on as many hits. And he wasn't the only one, as you can see from the stat line. But more than the number of hits was way the Cubs collected them. This wasn't a case of getting a few lucky duck snorts to drop here and there; the Cubs were crushing all night.
Sure, Schwarber and Starlin Castro ended up with some dribbling infield hits, but there were so many hard line drives all night that made you really get excited for what these guys can do when they're hitting on all cylinders.
Anthony Rizzo, who entered the game on an 0-19 streak, was robbed of a hit in his first at-bat when he fired a laser beam to second baseman Jason Kipnis. The ball had to be tossed out because it actually had hair on it. That had been the story of Rizzo's last few games though; solid contact with nothing to show for it. But that all changed in the 2nd inning.
As an aside, it was really cool to hear Northbrook, IL native Kipnis walk out to Chelsea Dagger for his initial at-bat.
The Cubs had already scored 4 runs after hitting for a team cycle in the 2nd when Anthony Rizzo again came to the plate with Dexter Fowler standing on first. I was Periscoping the AB and said something like, "a 3-1 count with a pitcher who's been getting hit really hard against a guy who's 0 for his last 20 is a recipe for a ball that's going to end up in the right field bleachers."
Shot. Called.
But the way the Cubs were hitting that night, I could have called a hit for every batter and been right quite often. Even some of the balls that didn't fall for hits were impressive. Like Rizzo's liner, the first contact Schwarber made was on a ball he pulled foul and that sounded like a gun-shot off the bat.
It was just so much fun to see this Cubs team coming together and playing a great game, top-to-bottom. Tsuyoshi Wada looked great on the mound, going 7 strong innings and giving the bullpen some much-needed rest. He later referred to himself as a badass, admitting that he didn't know what it meant but that Joe Maddon had told him to say it.
He wasn't alone though, as the whole team looked like a collection of badasses as they romped all over their hosts. With all the one-run games the Cubs have had this season (28 so far), it was nice to have a laugher. I know I thoroughly enjoyed watching a game with zero fear of a collapse.
They'll try to do it again Thursday night, when they complete the two-game set. Miguel Montero will be back in the lineup after sitting with a sore back, which means that Schwarber is being pushed to the 8th spot in the order. Yes, Kyle Schwarber is batting 8th. Think about that. Then think about the fact that Jorge Soler will be coming back at some point.
That's just a scary good amount of scary good talent up and down the order. We had all been pointing to this possibility years ago, to a time when the Cubs would be fielding a team of young, homegrown talent that could carry them into years of contention. And now it's actually happening.
Certainly, last night's game is not the norm. But sometimes a little craziness like that is a great confidence builder, something to really jump-start the team. It's just great to have a lot of fun a ballgame, and better yet to see the Cubs doing more of the same.
Here's to hoping they can rock Cleveland once more to start a nice little streak here in the last half of June.