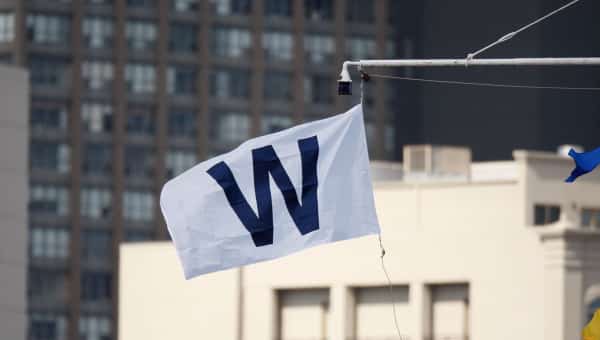 A Tip of the Recap – June 21st
Jake Arrieta was dominant as Cubs took an early lead before they erupted for 6 runs in the 8th to win by a score of 8-0 today against the Twins.
The Good
Before the Cubs added on late in the game, Jake Arrieta was absolutely dealing. He finished with a complete-game shutout and gave up just 4 hits (3 singles and a double) with 0 walks and 7 K's. It was a masterpiece as he now improves to 7-5 on the year with a 3.07 ERA.
Every Cub except for Denorfia and Bryant had at least 1 hit, though Denorfia did at least reach via walk. Dexter Fowler had the big hit of the day, a grand slam in the 8th to really put the game away. It was his 8th HR and he now has 22 RBI to go along with his .238 AVG.
Anthony Rizzo's week-long slump is a thing of the past as he has really be seeing the ball well lately. Today he went 2 for 4 with a walk and his 15th HR of the year (a solo shot). Even his outs were loud as he also flew out to right in front of the 411 foot sign in CF. He is now hitting .309 and has driven in 43 runs on the year.
Starlin Castro was very productive at the plate and went 3 for 4 with a sac fly RBI to get the Cubs on the board in the 3rd inning. His other hits were all singles but he appears to be seeing the ball very well recently and hopefully these kinds of days will happen more often. He raised his AVG to .271, but his OPS is still just around .650, so he has some work to do in that area. But with back-to-back multi-hit games, things are looking good.
Kyle Schwarber will be packing his bags for Iowa, but he did leave a good impression in his short stint with the Cubs this week. Today he contributed with a 2 run single in the 8th to put the Cubs up 4-0. In all, he will leave for Iowa with a .364 AVG, 1 HR and 6 RBI; not bad for a 6 game cup of coffee for the kid.
Chris Coghlan had a 2-hit day, with a single and a double (his 12th) to bring his AVG up to .252 on the year.
Addison Russell reached base 3 times today with a single and 2 walks and he is now hitting .259 on the year. He has looked more comfortable at the plate as every game passes and provides some outstanding defense at 2nd base, with nifty plays becoming the norm day in and day out.
The Bad
Kris Bryant had a 14-game hit streak ended earlier this week and since then has gone 0 for 13 with 5 K's; he went 0 for 5 with 3 strikeouts today. There are going to be days like this with him and he hasn't really had many prolonged stretches of failure thus far in his short career.
On Deck 
The Cubs return home to welcome the Dodgers to Wrigley for 4 games, with Game 1 tomorrow night at 7:05 PM (CST) on WGN. The Cubs will send Tsuyoshi Wada (1-1, 3.68) to the mound after the best start of the season from him the last time out against the Indians. The Dodgers' starter has not been announced as of yet, so we will see who they run out there tomorrow night.