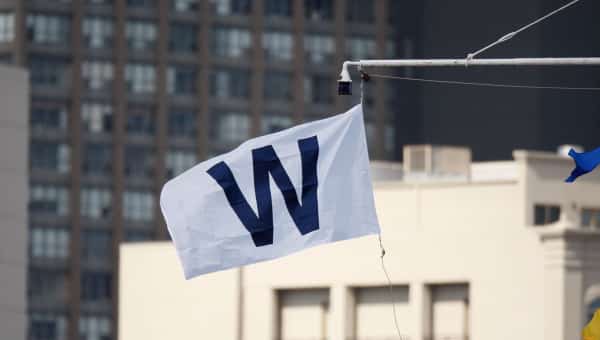 A Tip of the Recap – June 22nd
The Cubs fought off a couple injuries and were led by a couple home runs by Kris Bryant and one by Matt Szczur to give them a 4-2 win over the Dodgers (and Clayton Kershaw) tonight.
The Good
Kris Bryant had a couple of firsts tonight; he hit his first opposite-field HR (2-run shot in the 3rd) and he also had his first multi-HR game of his career with a solo shot in the 8th. He now has 10 HR's with 42 RBI and a .282 AVG. His first homer was on a Kershaw curveball and was the first hit off of that pitch all year. He also drew a walk against Kershaw and looked like he was in control tonight.
Szczur got the call from Iowa when the Cubs sent Kyle Schwarber down last night. His addition paid off in a big way as he hit a solo HR off of Kershaw in the 7th inning to help extend the 2-1 lead. He started in LF, but moved over to CF when Fowler left early with a sprained left ankle.
The pen was called on to do a lot of the heavy lifting tonight and they came up huge, giving up just 1 run (a solo HR by Pederson in the 9th. In all the pen pitched 7 innings (after Wada left early) and gave up just 3 hits, with 4 walks and 7 Ks. This load was okay because of Arrieta's complete game shutout yesterday, so it wasn't a huge deal and Travis Wood was the only one to throw more than 19 pitches (53 to be exact).
The Bad
The injury bug bit pretty hard tonight with Tsuyoshi Wada having to leave after just 2 innings pitched with a shoulder cramp and then Dexter Fowler rolled his left ankle trying to return back to first base on a Rizzo fly out. If he has to be out for an extended period of time, perhaps it will be time to recall Arismendy Alcantara from Iowa. Either way I hope neither injury turns out to be serious as Wada was just starting to pitch like a "badass" and Fowler has looked really good at the plate the past few games.
On Deck
Game 2 will be at the same time tomorrow, 7:05 PM (CST), with the game being televised on CSN (which will not include the weather updates that WGN had tonight). Jason Hammel (5-2, 2.89)  gets the call for the Cubs against Zack Greinke (5-2, 1.81) for the Dodgers.