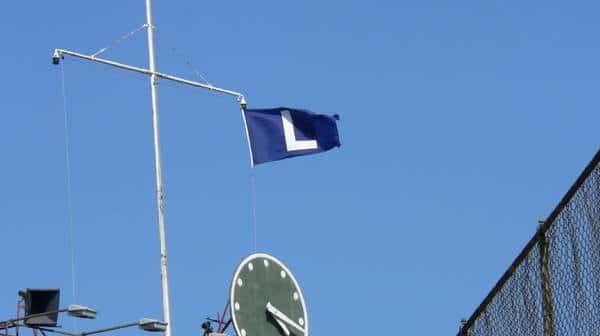 A Tip of the Recap – June 24th
The Cubs dropped the 3rd game of the series by a score of 5-2 to the Dodgers tonight behind some less than stellar pitching by Kyle Hendricks.
The Good
Addison Russell had a great day at the dish, going 2 for 4 with a single and an RBI double (15th double, 21st RBI). He is now hitting .255 on the year and it sounds like Maddon is going to keep him where he is in the order no matter what he does, though I see him eventually hitting in a different spot (6th or 7th spot or even the 2nd spot).
The Cubs only had 1 extra-base hit all night (Russell's double), but they did get on base; they just couldn't capitalize. They had 8 hits and 4 walks with every starter reaching base via a walk or a hit at least once. Denorfia, Russell and Coghlan were the only Cubs to reach twice though.
James Russell came in during the 6th inning and was impressive, striking out 2 and making a heck of a play on a dribbler by Joc Pederson. He lowered his ERA to 2.12, and though he has walked almost as many guys as he has struck out (6 BBs, 9 Ks), he has been hard on lefties and has gotten the job done when called upon by Maddon.
The Bad
The Cubs had several chances to get back into this one, but failed to come through with a timely hit. Instead they left 13 men on base and were 1 for 4 with men in scoring position.
Kyle Hendricks got hurt by a couple bad pitches and he was bit by the HR ball twice. He gave up a solo shot to Adrian Gonzalez and then a 3-run shot to Justin Turner to account for all 4 runs that he gave up tonight. He went 5 innings and gave up 4 hits with 1 walk and 3 Ks. He got the loss and fell to 2-4 on the year with a 4.46 ERA and his HR rate is around 1 HR/9 innings when he was at 0.4 last season.
On Deck
The Cubs will look to take 3 out of 4 with a win tomorrow in a game that starts at 1:20 PM (CST) on ABC 7 and the MLB Network. Jon Lester (4-5, 3.80) will get the ball as he looks to get his record back to .500, the Dodgers will counter with Carlos Frias (4-5, 4.68).