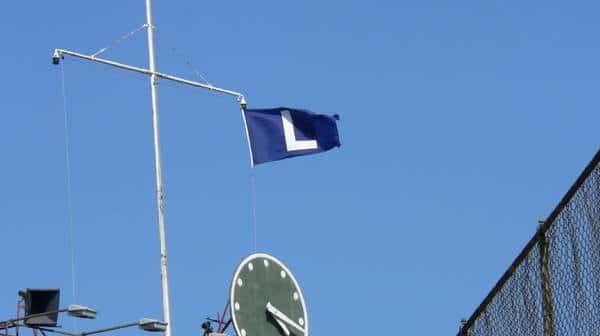 A Tip of the Recap – June 28th/29th
The Cubs were swept by the Cardinals after losing a game that saw two different rain delays by a score of 4-1 tonight.
The Good
Well, not much good came from this game or this series as a whole. The Cubs just couldn't get a big hit when they had men on base; those will come eventually, just too bad it didn't come against the Cardinals this weekend.
Chris Coghlan reached base 3 more times tonight with a walk, a single and his 15th double, and he is now hitting .259 on the year. He has even looked better in the field this year too.
The pen did a good job when Hammel left after 4 innings. James Russell allowed an inherited runner score, but Grimm, Ramirez and Motte produced scoreless work. It was great to have Neil Ramirez back and he was on point, striking out 2 in his perfect inning of work.
The Bad
Jason Hammel threw 11 pitches before the game was delayed for over an hour and a half, but came back in after the delay and didn't pitch great (though it was a really tough situation to be in). He gave up 4 runs (all earned) on 6 hits (5 doubles), 1 walk and 7 Ks. Like I said, it was a tough spot to be in for him and he didn't do that bad, but you can't give the Cardinals 4 runs and expect to win.
This team is going to go through stretches like this because of their youth. Addison Russell is 3 for his last 22 (.136 AVG) with 9 Ks and he was 0 for 4 tonight with 2 more Ks. Kris Bryant is also struggling, though he did hit a double in the 8th inning. He is only hitting .200 in his last 7 games, but is still OPS-ing at .850 during that time frame at least.
To be honest though, there is not really anyone (except for Coghlan) that is doing much on offense over this 5-game losing streak. Hopefully getting out of St. Louis will get the bats to wake up for the Cubs.
On Deck
The Cubs are off tomorrow, but will pick things back up on Tuesday when they start a 3 game series in New York with the Mets. Game 1 will be at 6:10 PM (CST) and will be televised on CSN and ESPN. The Cubs will send Kyle Hendricks (2-4, 4.46) to the bump against possible trade target of the Cubs, Jon Niese (3-7, 4.12)