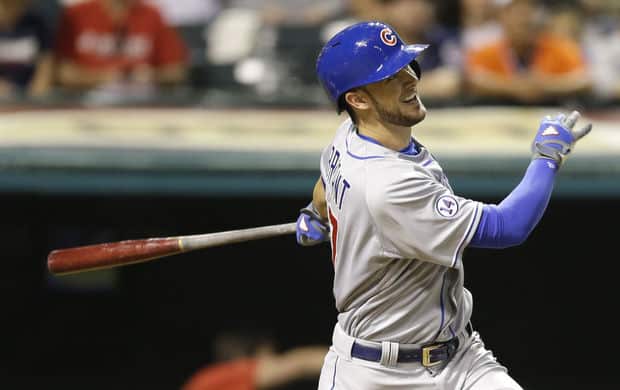 The Rundown: Russell and Bryant May Be Given More Days Off, Schwarber Keeps On Hitting, Duane Underwood Won't Need Surgery
The Cubs haven't allowed a run for 20 innings this series against the Mets.
It's a good thing, too, because the Cubs have only scored three of their own.
Last night's 2-0 win in 11 innings was beyond ugly, with inept hitting and bizarre baserunning mistakes. But the Cubs picked up the win, and that's all that matters.
The Cubs haven't lost since Simon the magician was invited to the clubhouse. They'll look to keep the magic alive this afternoon, as Jake Arrieta faces off against Jacob deGrom in what should be a great pitching match-up.
Summer days off
Addison Russell had the day off yesterday (at least in terms of  starting), and it's something we could see more of around the team coming up, writes Gordon Wittenmyer.
Russell hasn't played more than 110 games in a season, and Kris Bryant isn't used to the toll of a long MLB season, either. Joe Maddon is even hinting at sitting Starlin Castro at times.
"We're planning on playing several more months, one extra [seventh] month," Maddon said before last night's game. "And these guys that have never done it before, it will just smack you in the face. So now's the time to really be proactive regarding how you work with these guys."
Both Russell and Bryant are struggling at the plate right now, so a day off here and there may help get their minds right. Then again, pretty much the entire team can't hit at the moment, so who knows.
I like the idea of resting players occasionally, but the only problem is that with the Cubs' lackluster bench, it can make for some pretty lousy lineups.
I wouldn't be surprised to see Bryant out of today's game. He has played every game since being called up in mid-April.
Other notes
* I was a tad worried when Neil Ramirez didn't make an appearance last night, with Joe Maddon deciding to use Hector Rondon, Pedro Strop and Jason Motte all in succession for the second night in a row. But worry not: Jesse Rogers tweets that Maddon said after the game that he wants to ease Ramirez back before throwing him into a tight situation. This is what I was hoping, but it's nice to hear it confirmed that there wasn't an injury situation preventing an appearance.
* Kyle Schwarber had a nice night for Triple-A Iowa yesterday. He went 3-for-4 with a double and an RBI. He did commit his second passed ball of the season, however. The Cubs sure could use his bat in Chicago, but Schwarber will continue to work on his catching at the minor-league level.
* Jorge Soler wasn't in the lineup for the I-Cubs, but it was merely a scheduled day off. Soler will hopefully be back up with the Cubs sometime this weekend, but nothing is set in stone. They certainly need his presence in the lineup.
* The Cubs received good news yesterday, as one of the organization's top pitching prospects — Duane Underwood — received an MRI that revealed no structural damage. Patrick Mooney writes that Underwood likely won't require Tommy John surgery. The Cubs took Underwood in the second round of the 2012 draft.
* Arismendy Alcantara has been named a Pacific Coast League all-star for the second straight year. Alcantara hasn't been great this year in Triple-A, but I'm hoping he puts things together and is able to contribute at the big-league level.