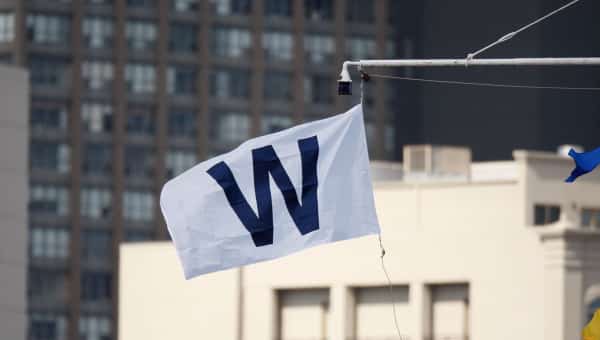 A Tip of the Recap – July 4th
The Cubs beat the Marlins by a score of 7-2 today behind great pitching from newcomer Clayton Richard and some fireworks courtesy of Kris Bryant.
The Good
Kris Bryant had a huge game (ok, well a huge first 2 innings of the game) today. He hit a 2-run HR in the bottom of the first then followed that up with a grand slam in the bottom of the 2nd. He is the first Cub to hit a grand slam on July 4th in over 100 years. He now has 12 HRs and 49 RBI (team leader) to go along with his .278 AVG.
Clayton Richard did awesome and when you consider that he was acquired just over 24 hours ago and that he hasn't thrown in the big leagues since 2013 and still pitched as well as he did, it is even more impressive. It was announced after yesterday's game that he was acquired from the Pirates for cash considerations and that he would start today in place of Donn Roach. It turned out to be a very good move for the Cubs.
Richard went 6.1 innings and scattered 8 hits (2 doubles and 6 singles) while giving up just 2 runs with 1 walk and 4 Ks. He was efficient and effective and has a chance to stick for a little bit in the rotation with Wada out for a bit with shoulder discomfort and no other really good options at Iowa.
Dexter Fowler went 1 for 3 with a walk and an RBI double to account for the 7th run for the Cubs. He scored on both of Bryant's blasts and is just hitting .232, but I foresee him hitting a hot streak here heading into the All-Star break.
Rondon, Ramirez, Russell and Strop finished out the last 2.2 innings with scoreless work out of the pen. They combined to give up just 2 hits and a walk while striking out 3. The pen has really settled in nicely and it will be interesting to see if Soriano's arrival after the break will signal the end of the Edwin Jackson experience.
The Bad
The only bad thing about today was that the Pirates and Cardinals both won in close games. The Cardinals had been on a 4-game losing streak, so the Cubs have been able to get back to where they were before they were swept in St. Louis last weekend. I know it is a little early to be scoreboard watching, but I'm not ready to say that the Cubs should only focus on the Wild Card spot. This 4 game series with the Cards next week looms large.
On Deck
The Cubs will finish their season series with the Marlins tomorrow. Game 3 will start at 1:20 PM (CST) and can be seen on CSN in the Chicagoland area. Kyle Hendricks (3-4, 4.15) gets the call for the Cubs as he goes up against Mat Latos (3-5, 5.27) for the Fish.