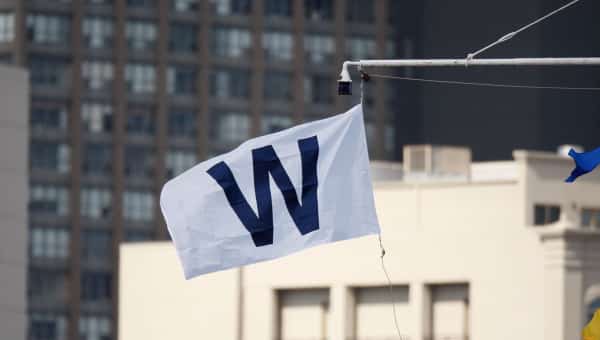 A Tip of the Recap – July 5th
The Cubs only scored 2 with just 3 hits but that was enough to win today by a score of 2-0 over the Marlins.
The Good
Kyle Hendricks was tremendous today and has now gone 2 starts in a row without giving up a run. Today he went 7.1 innings and gave up just 5 hits (all singles) with 1 walk and 6 Ks and picked off Dee Gordon from 1st in the 6th inning. He evened his record to 4-4 and lowered his ERA to 3.82 on the year. He worked quickly and the game only took 2 hours and 18 minutes to complete.
Pedro Strop was also very good in cleaning up the 8th inning for Hendricks as he came in with a man on and 1 out and retired the next two batters to get out of the 8th inning. He struck out 1 and lowered his ERA to 2.70.
Jason Motte was in full shutdown mode in the 9th and closed out the win with a perfect inning. He struck out the final batter of the game (on a pitch that was a bit low and outside) for his 4th save to go along with a 2.84 ERA.
Offensively the Cubs didn't do much, but obviously it was enough. Chris Denorfia led off the bottom of the 8th with a pinch-hit double to right center and came around to score on Chris Coghlan's single to RF. It was Coghlan's 2nd time on base as he also walked earlier in the game and the RBI gives him 19 on the year with his .254 AVG.
Kris Bryant also had a single and a walk and put Coghlan in scoring position in the bottom of the first. Coghlan was able to score on a wild pitch from 3rd and Hendricks pretty much made that hold up today.
The Bad
The bats have continued to be silent for a prolonged period and luckily they have run into some teams that have also been struggling to score (Mets and Marlins). The going will get tougher though with the Cardinals coming to town for 4 games in 3 days, so hopefully with Rizzo getting a break and Soler coming back the bats will wake up in time to make the most out of an important series.
On Deck
The Cardinals are coming to town and this will be a very big series leading into the last week before the All-Star break. Game 1 will start at 7:05 PM (CST) and will be shown on WGN and ESPN. Jon Lester (4-6, 3.74) gets the call for game 1 and he will face off against John Lackey (6-5, 3.30) for the Cards. Here's to hoping Lester can set the tone for this series and give a good performance.