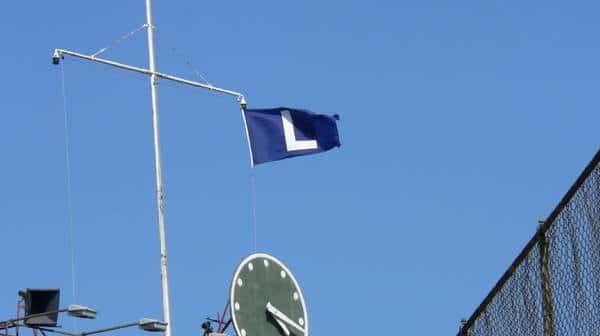 A Tip of the Recap – July 6th
The Cubs' bats could not come through with anything tonight and they lost to the Cardinals by a score of 6-0 in a game that was delayed over an hour by rain.
The Good
Jon Lester pitched a heck of a game tonight and truly deserved better than he got. He started with 6.1 no-hit innings, but then the wheels sort of came off after a grounder to Bryant that couldn't be handled (it was ruled a single). After that another grounder was hit to Bryant and he tried to get the force out at 2nd, but threw the ball into RF instead. That set the stage for a 2-run inning for the Cardinals and made Lester the tough-luck loser.
Lester finished with 7 innings and gave up 2 runs (unearned) on just 2 hits, 2 walks and 8 Ks. His record falls to 4-7, but he lowered his ERA to 3.48.
Jorge Soler looked great at the plate today, going 2 for 3 with a single and a double that just missed being a HR by about 5 feet. He also made some decent running plays in RF including one on a ball that was about to go over his head. If he can get the bat going, this offensive slump that the entire team is going through can be put behind them.
Dexter Fowler was dropped down to the 7th spot in the lineup and responded with a walk, a sharp single and a deep fly ball to RF that would have gone out if it wasn't hit to deeper portion of the field.
The Bad
The Cubs had their best chance to score in the bottom of the 6th when Rizzo led off with a bloop single, which was followed by a sharp single by Bryant to left-center to put men on 1st and 3rd with nobody out. Up steps Miguel Montero and he proceeds to strike out while swinging crazy hard instead of just making contact and getting the run in for the lead. Castro was up next and he hit a smash to the left of Kolten Wong, who made a great stop that turned into an inning-ending double play.
The Cubs have had trouble hitting with men in scoring position, but there has to be something they are doing in those situations that can be improved upon. The Cards were conceding a run with Montero up and he just seemed to go up to the plate trying to park one instead of just making contact and getting a run in during a 0-0 game. That kind of approach tweaks should be doable for a professional hitter (which I am not, so what do I know?).
Edwin Jackson came into the game after the delay and walked the first guy he faced, then struck out a batter before giving up 2 straight singles. He then gave up a sac fly to Mark Reynolds, a 2-run double to Randall Grichuck, and an RBI single to Peter Bourjos to make the game 6-0, which truly felt like 15-0 with the Cubs offense being the way it has been lately.
Jackson also threw 2 wild pitches and he saw his ERA jump up to 3.30. He may be the odd man out when Rafael Soriano is ready to join the pen and I for one will not be unhappy to see the E-Jax era come to an end in Chicago.
On Deck
The Cubs will take on the Cardinals in a day-night doubleheader tomorrow. Game 1 starts at 12:20 PM (CST) and will feature Jake Arrieta (8-5, 2.80) for the Cubs against Tyler Lyons (2-0, 5.09) for the Cards. Game 2 is scheduled for a 7:05 PM (CST) start as Dallas Beeler will be called up to make the start for the Cubs; the Cards will counter with Tim Cooney (0-0, 5.40).