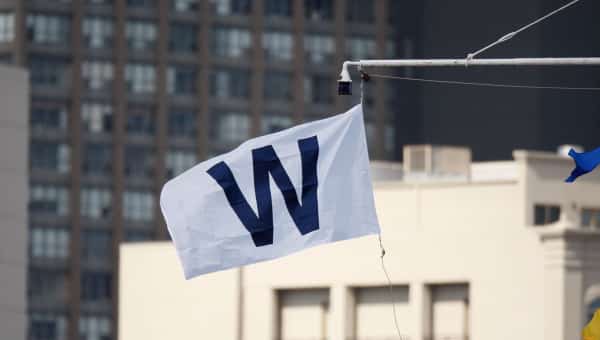 A Tip of the Recap – July 7th, Game 2
The Cubs took Game 2 of the the day-night doubleheader for a sweep today over the Cardinals. They won a score of 5-3 as they were able to withstand a comeback in the 9th by the Cards.
The Good
Dallas Beeler got the spot start and really held his own tonight. He went 5 innings and was charged with 2 runs (both earned), though those were given up when he was replaced by Russell and Grimm. In all he gave up just 4 hits (all singles) with 2 walks and 6 Ks.
The offense was actually fun to watch in this one tonight. Rizzo and Castro both had big sac flies tonight to get runs in from 3rd with less than 2 outs. Rizzo made a concerted effort to choke up and make contact (which he did with a partial swing) to get the ball to the OF. Castro put a charge into one to deep CF to get the run in; either way, it was a change of pace to see the Cubs manufacture runs like they did today (Rizzo's 48th RBI and Castro's 37th).
Addison Russell lucked into a pretty clutch hit with a soft grounder down the first base line (that defied physics to stay in fair territory) that tied the game in the 7th. He really has been scuffling, so hopefully this will get him going at the plate. It was his 22nd RBI, but he is only hitting .227 on the year and has looked a bit overmatched at the dish.
The catchers contributed tonight with Taylor Teagarden going oppo for an RBI single in the 5th to score Castro and get the Cubs on the board. Montero replaced him later in the game and drew a couple walks and looked much more in control than he did last night.
Jorge Soler had probably the best ABs of any Cub today, but only had one hit to show for it. He had a double in the 7th and came around to score, and he looks really locked in right now (hopefully he can stay on the field).
Castro had that clutch sac-fly, but he also ripped a double down to the LF corner and his contact has gotten louder recently. Perhaps a sign of things to come; his AVG is just at .251, so I would expect him to get piping hot here soon.
Hector Rondon looks awesome whenever Maddon sees fit to use him. Tonight he came into the game and pitched a perfect 8th inning for his 4th hold and he lowered his ERA to 2.04. Since June 22nd he hasn't closed once, but he has gone 7 innings without giving up an earned run with 6 Ks and just 1 walk. He really has slid into this role very well without complaining once.
The Bad
I'm not going to gripe much about this one after a sweep by the Cubs, but Grimm and Motte were less than sharp though they limited the damage and got the job done. Motte earned his 5th save, while Grimm did allow 2 inherited runners to score.
On Deck
The final game of the 4 game series is tomorrow night at 7:05 PM (CST) and can be seen on ESPN and CSN. There is a great matchup on tap for the game with the Cubs sending Jason Hammel (5-4, 2.89) to the mound against Michael Wacha (10-3, 2.66) for the Cards.