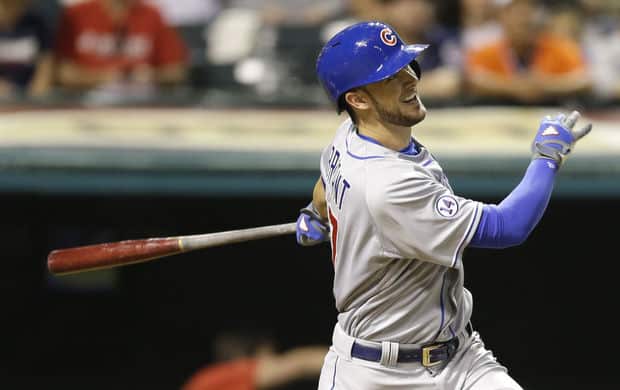 Kris Bryant Wants to Participate in Home Run Derby and Have Fun with All-Star Experience
As he sat addressing the media in the wake of his All-Star Game selection, Kris Bryant's "aw, shucks" demeanor belied the unshakable confidence and competitive fire that drives him. He was all smiles, but in acknowledging that, sure, he'd be open to participating in the crown jewel of the festivities in the queen city, Bryant's enthusiasm was undeniable.
Baseball is a child's game, it's supposed to be fun. And nothing has more potential to bring out the kid in all of us like watching guys hit mammoth home runs. Bryant said that he'd be in the home run derby, or rather, that he'd participate if asked.
But it's not just about making the fans happy, as Bryant acknowledged on Monday. "I hope to play in many of those games, but it might be the only time I get to do that. You only have one debut. I'm going to treat this All-Star Game like it's my only one, so I'm going to have fun with it."
Yes, so many times this. I've been on a big kick lately about getting upset with people who take themselves and others far too seriously; if you've read anything I've ever written, I think you know that's not usually a problem for me. We see this with All-Star games in particular, which is why I'd really love to see some new blood in there.
I really enjoyed watching Yoenis Cespedes, who just seemed to be bursting with energy when he won in each of the past two contests. And who could forget seeing Josh Hamilton really putting himself back on the map by blasting a record 28 homers in the first round of the 2008 Derby.
And I'm sure many still have fond memories Ken Griffey Jr and his backwards cap or maybe Sosa and McGwire hitting 500+ foot shots into the night in Boston, Atlanta, and Milwaukee. Sure, the story of those Derbies could have been titled "My Chemical Romance," but that doesn't mean it wasn't a great deal of fun at the time.
Personally, I'd love to see a bunch of young, up-and-coming guys with some of the former champs. Cespedes, Prince Fielder, David Ortiz, and Robinson Cano on one team vs. Bryant, Joc Pederson, Bryce Harper, and maybe Nolan Arenado. Giancarlo Stanton would be an obvious choice if healthy. Maybe Albert Pujols could be on the old-guy team.
Another thought I had earlier in the year was to do USA vs. The World like the Futures Game. Heck, how about Las Vegas vs. The World? Brant, Harper and the recently-demoted Joey Gallo would be hard to bet against. Alas, the format isn't going to follow my suggestions, nor will it be like what we've seen in the past, for that matter.
According to MLB,
It was announced last month that this year's Home Run Derby, set to be held July 13 at Cincinnati's Great American Ball Park as part of Gatorade All-Star Workout Day, will now play out as a bracket-style, timed event. The eight-player field, which is still to be determined, will be organized into a single-elimination bracket, lasting three rounds.
Instead of a set number of "outs" per round, each player this year will have five minutes to hit as many home runs as possible. A running clock will begin counting down upon release of the first pitch, though it will stop for any home run hit during the final minute. The clock will stop immediately after those home run balls land and will not begin again until a non-home run ball lands or the batter swings and misses.

Hitters will also be awarded bonus time for showcasing some extra pop. Contestants will receive an additional minute of swings if they hit two home runs projected to land 420 feet during a single turn, as well as another 30 seconds if they hit a blast of at least 475 feet. All distances will be measured using Statcast™.
So who are we going to see in the field this year? I'm sure they'll try to get Harper and Bryant, with Cespedes and Fielder as strong possibilities as well. I have to think Todd Frazier makes it based on his 25 homers and the fact that he plays for the host team. Toronto's Josh Donaldson would be a nice addition as well.
Regardless of the field, the Home Run Derby is something I always find myself watching even though I might not always like to admit how much I enjoy it. It's total guilty pleasure viewing for me, something that takes me back to the days in my neighborhood when we'd hold our own home-run-hitting contests in various backyards.
But I'd really love to see Kris Bryant in it, and for more than just my own selfish reasons. This kid is going to be a star no matter what, but putting his grinning mug on prime time would be a nice bit of exposure that could really put him into orbit. I know he can handle the publicity too, and I'm excited to see the Cubs with a bona fide baseball celebrity again.
Is that weird? I don't know, maybe. I do feel kinda like Darren Rovell got ahold of me there for a bit, as though I wanted to start spouting numbers about the potential growth in Bryant's Twitter account and the value of his image. No, I just like seeing the Cubs as a national presence again. Lately they've become more of a niche product and I enjoy it more when they're relevant.
Anthony Rizzo is this team's best player, but Kris Bryant is going to be its face. And it's not just good for the Cubs, it great for baseball as well. Having young stars like Bryant and Harper is huge for a sport with a demographic that is skewing ever older.
So here's to hoping we see that innocent smile and that killer swing on Monday night in Cincy.