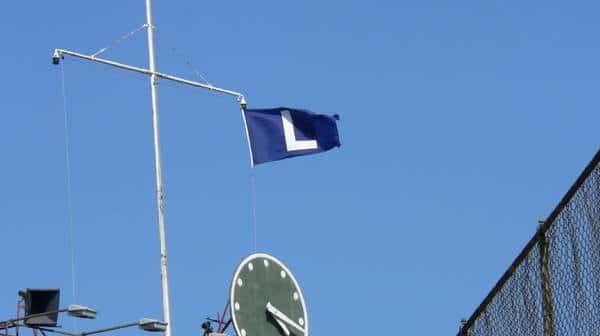 A Tip of the Recap July 8th
The Cubs were dealt a tough loss tonight after battling all the way back to take a 5-4 lead into the 9th. With the Cardinals down to their last strike, they hit a 2-run HR to take the lead in the top of the 9th; ultimately winning by a score of 6-5. 
The Good
The Cubs didn't quit and fought hard today like they have consistently this year, but sadly it wasn't enough. Every starter except for Coghlan had at least 1 hit, with Rizzo and Soler each having 2 hits.
Fowler and Rizzo formed a solid 1-2 punch at the top of the order tonight. Fowler went 1 for 4 with a walk and Rizzo was 2 for 4 with 2 runs scored.
The middle of the order also mostly got the job done with Bryant going 1 for 3 with an RBI triple and Jorge Soler with a 2 for 4 day at the plate. Miguel Montero had the biggest hit of the night for a while with a 2-out bases clearing double to give the Cubs the lead in the 6th. It was his 5th double and it gives him 32 RBI on the year.
Travis Wood was outstanding in an extended relieff appearance and really would have deserved the win that he was in line for. He went 3 hitless innings and only walked 1 while striking out 5. It was an awesome performance and he really did exactly what the Cubs and Maddon needed him to do tonight.
The Bad
Jason Hammel had to leave the game after only 1 inning of work with left hamstring tightness. He isn't scheduled to go again until after the All-Star break, so he will get a good long breather (probably 7 or 8 days at least) to heal. Hopefully this won't be a thing that pops up again for him because rotation depth is not a strength on this Cubs team.
Clayton Richard was called upon to come in for Hammel and he did not quite have as much success this time out. He gave up 4 runs (all earned) on 7 hits and 3 walks with 1 K. He was thrown into this situation in a situation when he probably wasn't remotely planning on pitching today, so I won't be too hard on him. But still, it wasn't a great performance.
Pedro Strop blew the save and took the loss after giving up the go-ahead run on a 2-run HR. He was up 1-2 in the count to Jhonny Peralta and left a fastball up in the zone and Peralta did not miss it. Strop retired the first 2 hitters so easily before walking Matt Carpenter, which set the stage for crushing blow.
Starlin Castro had a couple chances to get extra runs in with men on base and 1 out, but struck out both times when just a little contact would have gotten it done. Luckily Montero picked him up with his 3-run double, but the other time was the 8th inning with men on 1st and 3rd, which could have been a huge insurance run.
On Deck
The Cubs will have tomorrow off before starting a 3-game series the their cross-town rivals the White Sox. Game 1 will be Friday afternoon at 3:05 PM (CST) at Wrigley and can be seen on WGN (White Sox broadcast) and CSN (Cubs broadcast). Kyle Hendricks (4-4, 3.82) will get the ball against rookie, Carlos Rodon (3-2, 4.18) for the Sox.