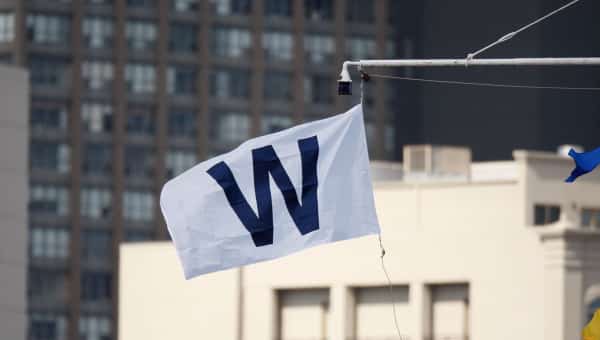 A Tip of the Recap – July 12th
Today was the Jake Arrieta Show as he pitched a complete game two-hitter and hit a solo HR to help lead the Cubs to a 3-1 victory over the Sox.
The Good
Jake Arrieta plays the role of stopper very well and today was an outstanding example of that. He stopped the 4-game losing streak and sent the Cubs into the All-Star break on a win. He pitched a gem, giving up just 2 hits with 0 walks and 9 Ks in a complete game. He improved to 10-5 on the year and lowered his ERA to 2.66.
There is no good reason that he didn't make the All-Star team, but if that is putting a chip on his shoulder for performances like this then go ahead Jake, get angry. Arrieta struck out 6 of the first 9 hitters he faced and then struck out the side in the 9th. He now has 123 Ks in 121.2 innings with just 25 BBs on the year.
Dexter Fowler had a great day at the dish, going 3 for 4 (3 singles) and a run scored. He is still just hitting .232, so hopefully he will come out of the break hot and his ankle should be healed that much more too.
Bryant and Rizzo both reached base 2 times; Rizzo had a single and an HBP with Bryant hitting an RBI triple down the LF line and an HBP. It was Rizzo's 19th HBP and Bryant's 5th, while Bryant's triple gives him 51 RBI on the year.
Jorge Soler drove in Bryant from 3rd in the bottom of the first to give the Cubs a 2-0 lead, which would have been plenty for Arrieta today. It was Soler's 21st RBI and he did strike out in his other 3 ABs today, though on some pretty borderline pitches.
The Bad
I can't say anything was bad about this one today. Arrieta had an awesome day and the bats did just enough to get the win and stop the losing streak at 4.
On Deck
The focus will now turn to Cincinnati for the All Star game this week. Monday night will be the HR Derby featuring Bryant and Rizzo in what I feel is an exciting bracket style format. Then Tuesday will be the mid-summer classic and I know it gets a great deal of flack, but I love it and look forward to seeing the best of the game in one spot.