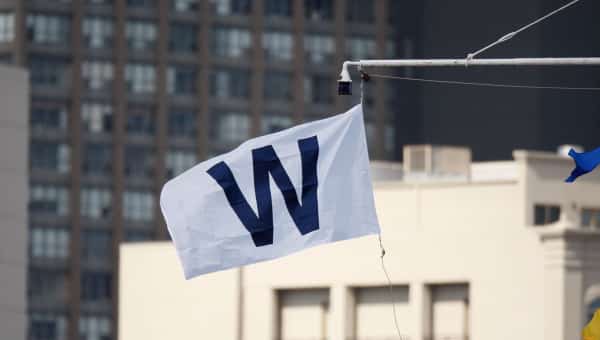 A Tip of the Recap – July 18th
Jon Lester flirted with a no-hitter tonight but settled for a win behind some great pitching and timely hitting on the way to a 4-0 victory over the Braves.
The Good
Jon Lester was obviously a big part of the story tonight. He gave up a single in the first, but the official scorer changed it over to an error on Kris Bryant in 6th inning, which gave Lester a no-hitter through 6. He carried his n0-no through 7 innings, but gave up a single to AJ Pierzynski to lead off the 8th inning.
For the game, Lester went 7.1 innings and gave up just 2 hits and 1 walk with 7 Ks. He improved his record to 5-8 on the year and lowered his ERA to 3.37. It was truly a great performance and but Lester's problem hasn't really been his work as much as it has been a lack of run support. This was only the 2nd time in 10 starts that the Cubs have given him more than 1 run.
Dexter Fowler is looking locked in to start the 2nd half. He had 3 walks today (though he only scored once) and he made the pitchers work, hallmarks of a good leadoff guy.
Anthony Rizzo had a couple huge 2-out RBI singles, with one coming in the top of the 9th to give the Cubs a 4-0 lead. He is now hitting .298 with an even 50 RBI on the year, which is good enough for 2nd on the team behind Bryant's 51.
Chris Denorfia doubled (his 7th) and scored on an RBI single from Castro in the 4th and also added another single and drew a walk to make him 2 for 3 on the day. Denorfia is hitting .310 and I for one am very glad that the Cubs ended up with him as a platoon partner in the OF; when healthy he has really produced.
Hector Rondon came into the game in the 8th with 2 men on and 1 out and got the final 2 outs without giving up anything. Rondon has pitched so well that I'd rather see him come in during these situations than I would Pedro Strop. Rondon has been consistently good for pretty much the entire year whereas Strop has had his struggles.
The Bad
Nothing bad about this one; a no-hitter through 7 innings is pretty cool (even if it wasn't a no-hitter till the 6th). The bats scored early and then tacked on important insurance runs, which was a sight for sore eyes. Here is hoping the Cubs can get the series win tomorrow.
On Deck
The Cubs will finish their series with the Braves tomorrow at 4:05 PM (CST) on WGN. Jake Arrieta (10-5, 2.66) will get the call against Shelby Miller (5-5, 2.38) for the Braves.