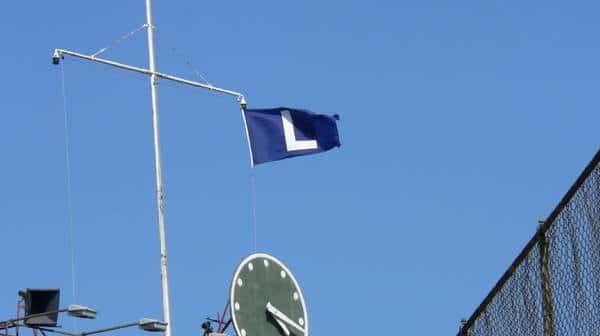 A Tip of the Recap – July 20th
The Cubs battled back and forth tonight but came up short and lost by a score of 5-4 to the Reds in the first of a 4-game series.
The Good
The bats were not really the problem tonight, though they wasted a chance in the 8th with a leadoff double from Coghlan.
Dexter Fowler is looking locked in every day now. He went 2 for 3 with 2 walks and a run scored tonight and is getting on base at a very high rate after the break. You would have to think that will translate into some big games for the middle of the order.
Kris Bryant and Jorge Soler each hit RBI doubles in the 5th inning to give the Cubs the lead at the time. Kris Bryant's was a ground-rule double (his 52nd RBI and 15th double) and scored one, while Soler's was a 2-run double down the RF line (giving him 26 RBI and 15 doubles).
Addison Russell had his best day at the plate in a while tonight, going 2 for 3 with a walk. He hit some balls hard and was the beneficiary of a good call on a full-count check swing that led to a walk. Maybe he can get out of his funk and start producing more than just defensive gems (though I like those too).
Travis Wood came in and pulled a Houdini, getting out of a 1st and 3rd situation with 1 out (inherited from Neil Ramirez) without surrendering a run. It was very impressive and obviously would have meant even more if the Cubs had come back and won the game, but still an impressive bit of work.
The Bad
Clayton Richard wasn't awful, but he wasn't that good either (I know, he is only a 5th starter, low expectations, but still). He made it through 5.2 innings and gave up 3 runs (all earned) on 4 hits (2 HRs), 1 walk and 1 K. It was not bad and actually may have been good enough for the win, but I will be disappointed if he is taking the ball as the 5th starter after the trade deadline.
Justin Grimm just didn't have it today and gave up the winning 2-run HR to Jay Bruce after he walked the first guy he faced. These things happen though and you can't get everyone out all of the time, I still trust Grimm in high leverage spots, he just didn't the job done tonight.
Neil Ramirez hasn't really been the same since he returned from injury in June. He had to be relieved (and bailed out) by Travis Wood after giving up a leadoff triple and a single before getting just 1 out (it was a well-placed lineout). Hopefully he can right the ship, because he had some amazing stuff last season.
On Deck
Game 2 will be tomorrow night at 6:10 PM (CST) on CSN and MLB Network. Jason Hammel (5-4, 2.86) will get the start and hopefully show he is over his hamstring flare up that caused him to leave after 1 inning in his last start before the break. He will go against Raisel Iglesias (1-2, 5.90) for the Reds.