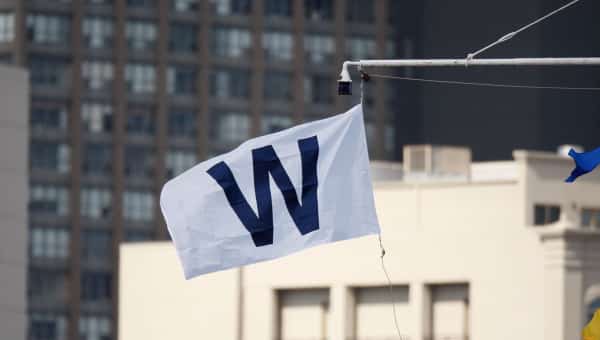 A Tip of the Recap – July 21st
This will be known as the Kyle Schwarber Game for years to come. Not only did he hit the game-tying HR in the top of the 9th, he also hit the game-winning HR in the top of the 13th to lead the Cubs to a 5-4 victory over the Reds.
The Good
Kyle Schwarber was outstanding and is one of the few guys that looks really in control at the plate in this lineup. He finished the day going 4 for 7 with 4 RBI, 2 HRs, a double and a single. He was only a triple shy of the cycle and is now hitting a robust .410 with 3 HRs and 10 RBI. He single-handedly won this game for the Cubs and it will be interesting to see if he gets some time in LF or if the Cubs throw caution to the wind and let him catch everyone but Lester going forward.
Chris Coghlan accounted for the other run with a solo HR to LF that was at first called a triple, but after further review was correctly changed to his 9th HR. That ties a career high in HRs.
Dexter Fowler and Jorge Soler each had a couple hits on the night with Soler adding a walk and Fowler stealing his 14th base. Soler especially has been putting on some impressive displays of power. His double tonight was an absolute missile to CF and he frequently has the hardest hit balls on any given night in all of baseball.
Jason Hammel wasn't great and he wasn't terrible either. He looked like a guy that hadn't pitched in almost 2 weeks, but he battled and got himself out of trouble with a couple pick offs. He went 5 innings and gave up 2 runs (1 earned) on 5 hits and 3 walks with 4 Ks. His ERA sits at 2.82 and I imagine he will be much better next time out on the bump.
Hector Rondon and Jason Motte gave 2 very good innings of relief each with Motte getting the win to improve to 7-1 on the year. Justin Grimm came in and was perfect for his 2nd save of the year, which was good to see after his less than great performance yesterday.
The Bad
Pedro Strop allowed 2 inherited runners to score, though he was in a tough position with a man on 3rd and 1 out. He still kept going to the slider and Todd Frazier leaned outside and punched it to LF for a 2-run single that put the Reds up 4-2. Strop is going to figure this out, he is too talented not to, but it would be nice if that came sooner than later.
The pen was worked pretty heavily tonight and with 2 games tomorrow there may be a need for a move besides just Dallas Beeler getting the 26th spot. Rondon and Motte both went 2 innings and you would think they would be unavailable. Russell, Strop, and Grimm threw less than 15 pitches, so they may be able to give it a go and Soriano didn't get in the game Tuesday, so I would assume he would see some action in one or both of the games in the double-header.
Either way, it was a heavy workload for the pen and it would be perfect timing for Kyle Hendricks to give another complete game performance in the 1st game.
On Deck
The Cubs will try to get through 2 games after the pen was relied on heavily in tonight's extra-inning game. Game 1 will be start at 11:35 AM (CST) and be shown on ABC7 in the Chicagoland area. Game 2 will then start at 5:10 PM (CST) and can be seen on ABC7 again. Here are the matchups:
Game 1
Kyle Hendricks (4-4, 3.44) vs. Mike Leake (7-5, 3.95)
Game 2
Dallas Beeler-called up for 2nd game only (0-0, 3.60) vs. Tony Cingrani (0-3, 3.47)