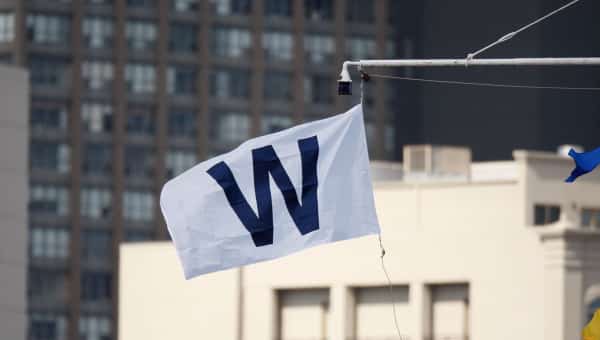 A Tip of the Recap – July 27th
The Cubs battled back from a 4-0 deficit to take a 7-4 lead into the 9th before the tandem of Jason Motte and Rafael Soriano blew the lead. All that did was set the stage for Kris Bryant to hit the 2-run, 2-out walk-off HR to make the Cubs 9-8 winners.
The Good
The Cubs hung a 6-spot on the Rockies in the bottom of the 4th as they batted around. Several Cubs had strong days at the dish tonight, but none bigger than the heroics of Kris Bryant.
Bryant had an RBI single earlier in the game, but turned the victory that turned into a loss back into a victory (magic) with his walk-off bomb to left-center. In all, he went 2 for 5 with his 14th HR and 3 RBI give him 59 on the year. He needed a big game like this to get his mojo back rolling and I am excited to see him break out in a big way now.
Dexter Fowler reached 3 times tonight on two walks and a single (in the bottom of the 9th) with 2 runs scored. Kyle Schwarber also reached via a walk and just missed some extra base hits on pitches that he was just a little off on tonight. Every other starter not named Kyle Hendricks got a hit, with Chris Denorfia and Starlin Castro having 2 each.
Denorfia, Soler, and Russell each drove in a run with Castro coming through big with a 2-run single in the 6-run 4th inning. Russell's RBI was on a double (his 18th) down the LF line and gives him 25 RBI on the year.
The Bad
Kyle Hendricks battled through not having his best stuff tonight and made it through 5+ innings. He gave up 4 runs (all earned) on 7 hits and 3 walks with 4 Ks. He got the no-decision and saw his ERA raise to 3.81 on the year. He wasn't very efficient either, needing 31 pitches to get through the first inning and over 100 to get through 5+.
Jason Motte and Rafael Soriano both blew the lead in the 9th. Jason Motte didn't retire a single batter, giving up hard contact all the way through. He gave up 3 hits (1 HR) and was charged with 3 runs (all earned) to bring his ERA to 3.49 on the year and I would assume he won't get the next chance for the save.
Soriano was dealt a tough hand with men on 2nd and 3rd and no outs when he came in; he got Tulo on an RBI ground out, but then gave up a bomb to Carlos Gonzalez to give the Rockies the lead. He hasn't been very good (at all) since the Cubs brought him up and it could be a combination of rust or just completely declined skills, but I would rather see him come in during the 6th inning and save Justin Grimm for the later innings.
On Deck
Game 2 is tomorrow evening with another 7:05 PM (CST) start time and again can be seen on CSN+. Dallas Beeler (0-0, 6.43) will get another start for the Cubs after a not great appearance last time out against the Reds. He will be opposed by Yohan Flande (0-1, 4.24) for the Rockies.