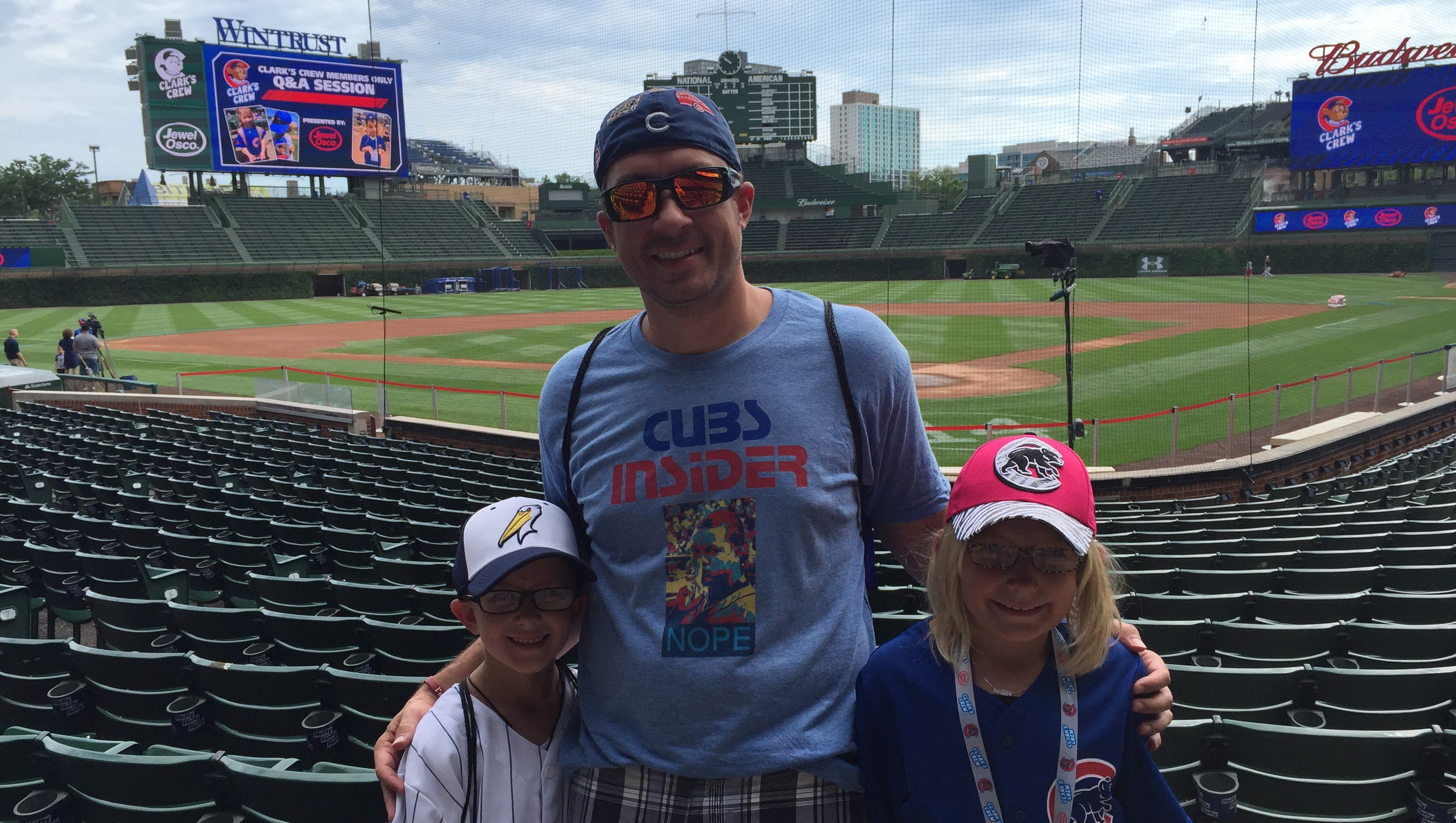 For a Guy Named Grimm the Cubs Reliever is Pretty Cool, or Why Buying a Clark's Crew Membership Was a Great Idea
I'd be lying if I said I wasn't one of the first to wag my finger and cluck in derision over the Cubs' announcement of a new mascot a couple years back. But my indignation really had more to do with the rollout of the concept more so than the idea of a mascot in general. Plus, coming out with a furry pantsless bear mascot in the middle of a(n) historically bad run of baseball was just the sort of marketing tree that produced an abundance of low-hanging fruit.
In the intervening time, my stance has softened a great deal. While I still feel the events leading up to Clark's "birth" were ill-though-out, I have actually become a big fan of the mascot and the the Crew the Cubs have established for young fans. I guess having kids helps to change your perspective of certain things. My children are getting to where they really enjoy the game itself and the trip to the ballpark, and Clark is a big part of that now.
You should have seen the way they lit up when they saw him walking down the concourse at the game we attended earlier this season; that alone was worth the trip. And it's not just my kids either. I'm sure hundreds of other parents could tell similar stories of their kids and Clark. But for me, the real treat in all of this is Clark's Crew, the membership you can purchase for young fans. The skeptics among you are probably thinking it's just another of those scams they set up to line Ricketts' pockets, but bear with me (get it?).
Even before Clark's Crew, the Cubs had started allowing kids to run the bases after Sunday games, which is a huge treat for kids and parents alike. You get wristbands once you get in the gate and then there's a big cattle call at the end of the game and kids are herded out onto the field in a single-file line. Imagine a few thousand parents and kids lining up in the concourse for about 45 minutes, dodging exiting fans and answering questions about when they're going home. Yeah, not great.
Then imagine a father who's stood in that line seeing a bullet in the Clark's Crew membership benefit that says "Official Clark's Crew membership card (with fast-pass privileges on Sundays for Kids Run the Bases)." Take my money, please. I looked at the $50 ($25 per kid) as more than worth the time I'd have spent queued up; I mean, you haven't lived until you've big-leagued a large phalanx of tired parents and bypassed the wait. The rest of the stuff they got (jersey, activity guide, lanyard, stickers, etc) was just gravy.
But that was last year. This year, the Cubs upped the ante by adding in a couple of exclusive player Q&A sessions at Wrigley. Crew members get postcards and emails to one of the two events, both of which took place on Sundays. My kids and I attended the most recent after taking part in an MLBPAA baseball clinic the previous day. I love being at Wrigley when it's packed to the gills and humming with excitement, but there's something special about having the place almost to yourselves. Sure, there was a cacophony of kids, but I can't think of a better way to start a day.
The children all got really excited for Clark and their time to lob questions at him. Actually, I think the person who was most excited was the dad near the front who proceeded to pepper the mute bear with questions about the results of the mascot home run derby in Cincinnati and Clark's potential participation in the event next year in San Diego. I really wish I was making this up, but the guy must have gone on for five or six minutes before being cut off.
So that was all well and good, but my favorite part of the morning was easily having Justin Grimm up there having questions from his seat atop the Cubs dugout. Kyle Hendricks would join him a bit later, but Grimm really stole the show. Kids lined up and were handed a mic to ask a question of the Cubs reliever, who really seemed to enjoy his time up there dispensing answers to any number of random queries.
When a young boy asked Grimm what his birthday was, the reliever gave it, then asked the kid for his own DOB and Social Security Number. He talked about his time in the minors, his friends on the team, even his upbringing and adjusting to life in college and in the pros. Once Hendricks joined him on stage, it was more of the same as the two sort of riffed back and forth. My son asked them about their favorite pizza; Grimmer is a Lou Malnati's guy, Hendricks prefers Giordano's (so do I).
I was able to broadcast some of the event via Periscope, so check that out if you'd like to know more about how often they practice, their favorite parent-made meals, favorite Star Wars character, and whether their hands get dirty when they play baseball (the answer to that one was great). Grimm even revealed that he tried to give up baseball in favor of another sport, but that his retirement was short-lived.
I also learned that Miss Lippy's car is green and that Billy likes soda.
Near the end of the session, a little girl asked them what it was like to be famous, to which Hendricks responded, "I don't think we're that famous, are we?" No, Kyle, you're probably not. Not in the grand scheme of things anyway, and certainly not relative to some of your teammates. And I would be willing to be that if the slightly-built pitcher were to walk around Chicago in his street clothes, he'd have a hard time being bothered for autographs.
But sitting there that morning and answering questioned lobbed at them like juvenile eephus pitches, Hendricks and Grimm were the brightest stars in the sky as far as those kids were concerned. The players eventually had to get back to their pre-game routines and the rest of us made our way to the exits. On the way out, we were able to get the picture you see above and the kids each got a Clark hat that was signed by one or the other of the players (my son hasn't taken his off since).
Say what you will about the team changing traditions and bringing a goofy mascot aboard, but I'm about as cynical as they come and I think this is one of the best ideas the team has had in a while. Aw, who am I kidding? When it comes to my kids and baseball, I'm anything but cynical. Still, I've been very critical of the Cubs' business decisions, but this is something with which I can no longer find fault.
I know they'll never read this, but I want to thank Justin Grimm and Kyle Hendricks, not to mention the Cubs staffers who facilitated the event, for helping me to bond with my kids over this great sport. I'd love to keep events like this under wraps and avoid having to fight for space at them in the future, but it'd really selfish to not share this stuff with more people. If you are a Cubs fan and you have young kids in your life, I can't recommend Clark's Crew highly enough (crosses fingers for free membership in future, knows it won't happen).
Now if I could just have as much fun actually watching the team play baseball.