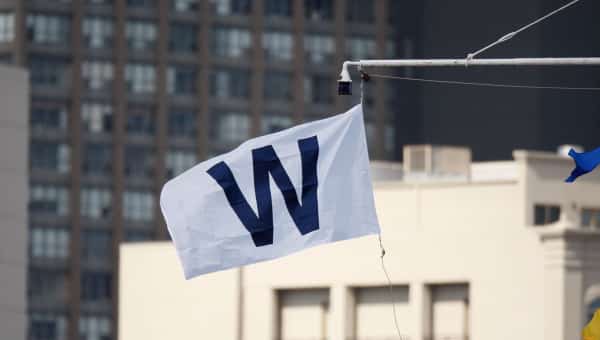 A Tip of the Recap – July 29th
The Cubs took the rubber match today in a game that was dominated by Jon Lester and saw Dexter Fowler and Anthony Rizzo hit a HR each to lead the Cubs to a 3-2 victory over the Rockies.
The Good
Jon Lester probably had his best start yet as a Cub today. He was absolutely dominant, going 8 innings and giving up only 2 runs (b0th earned) on 5 hits and 1 walk. But the most impressive part of his game was the 14 K's, making Lester the first Cubs left-hander to have that many since 1914. He also laid down 3 perfect sacrifice bunts at the plate, though nothing came from them. Lester improved to 6-8 on the year and lowered his ERA to 3.26.
Fowler has come back as a complete force from the leadoff spot. He reached 3 more times today (1 HR and 2 walks) and has done so at around 50% of the time since the All-Star Break. His HR (10th) was a solo shot in the bottom of the first to right-center.
Rizzo also hit a HR (his 17th), a 2-run shot off the right-field foul pole to give him 53 RBI on the year. He hit a foul ball of his front foot in the bottom of the 8th and was in some pain, but did come out and play defense in the 9th, so hopefully it isn't anything to worry about.
Addison Russell looks very comfortable at the plate and it appears that his stance is a little more upright with his hands just a little closer to his body. He had two sharp singles out of the 6-hole and is now hitting .237 on the year. He played shortstop to give Castro a breather and did well in that spot (as usual).
Kyle Schwarber continues to look comfortable at the plate; he went 1 for 2 with a single and 2 walks today. He and Fowler are a great combo in the 1 and 2 spot of the lineup. If Rizzo and Bryant get out of their funks, look out world!
Hector Rondon got the save chance and converted with a rather dominant inning of work. He struck out the first two hitters he faced then walked CarGo on a close 3-2 pitch (but a walk is better than another HR) then got the next guy to ground out to short for his 13th save. I like him much better in this role than I do Jason "I only throw the ball hard or harder" Motte.
The Bad
Nothing bad about a series win over a team that they should beat. They did get thrown out 2 times trying to steal though; Fowler and Coghlan both were thrown out with hot hitters up at the plate. It was unfortunate but thankfully the Cubs had all the runs they needed.
On Deck
The Cubs will now travel to Milwaukee for a 4 game series with the Brewers. Game 1 will feature Jake Arrieta (11-6, 2.61) for the Cubs facing off against Jimmy Nelson (8-9, 3.97) for the Brewers.